Aaron Flint
posted on April 04, 2014 14:12
:: 2696 Views
If you've heard the phrase, "Montana is for badasses," this is one more reason why…
Former Vice Presidential candidate Sarah Palin called Glasgow, Montana's Julie Golob "a modern day Annie Oakley," according to Breitbart.com.
Glasgow shooter Julie Golob was on the debut of Sarah Palin's new TV Show Thursday night:
tonight it's Guns-a-blazing in Montana. Shooting champ Julie Golob @julieG1 on #AmazingAmerica w/ SarahPalin~ http://t.co/PKfJiWjjB4 #Mtpol

— Montana #1 (@Best4MT) April 3, 2014
Breitbart previewed the show with this:
When the first episode of Amazing America with Sarah Palin airs on Sportsman Channel later this week, you can expect to see a hit. Actually, multiple direct hits. One of the first guests on the new program is one of the best shooters in the world.

Julie Golob, captain of Smith & Wesson's highly successful shooting team, has won over 120 championship titles in seven different action shooting disciplines. She's also a veteran, hunter, author, and Mama Grizzly.
In the premiere episode, Golob braves the elements at a shooting range in Montana. "It was very very cold," Golob chuckled. "I don't think we got above zero, but it was a lot of fun."
Breitbart double taps with this follow up: Palin Profiles Cowboys, Shooters, Mushers in 'Amazing America' Debut
Mark Christopher Lawrence, an accomplished comedian and actor from Compton, California, visited champion shooter Julie Golob at her home in Montana. Golob has a shooting range in her backyard, and the two engaged in various drills.

Palin said Golob had a tenacious spirit and praised her for "kicking butt and taking names" in a male-dominated sport. She also called Golob a modern-day "Annie Oakley."

Palin said America is a nation of shooters and noted that women are defending the country and are "more enthusiastic and skilled shooters" than ever before.
Photo courtesy The Sportsman's Channel YouTube page: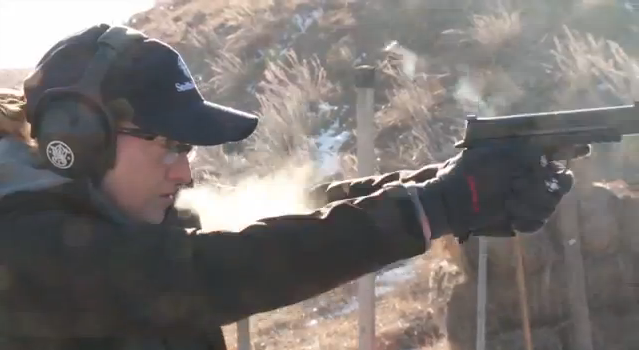 Al Smith
Friday, April 04, 2014 11:14 PM
I love guns.
I love beautiful women who love guns.
Consequently, I really, really love Julie and Sarah!
(Don't tell me wife!)