Aaron Flint
posted on December 13, 2013 08:32
:: 10790 Views
Update on Monday 12/16/2003
Phone calls and emails to Bozeman Daily Chronicle editors have gone unanswered since last week.
###
A news reporter, not a supposed opinion column writer, for The Bozeman Daily Chronicle may be in a little hot water of her own after referring to Montana's lone Congressman as a "Tea Party moron" for opposing the latest budget deal in Washington DC.
Here's a screenshot of the tweet from Chronicle reporter Laura Lundquist with responses from Henry Kriegel- a founder of the Bozeman Tea Party: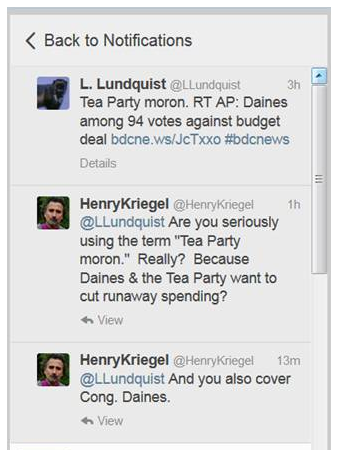 I've noticed some Montana Democrats and liberal bloggers have also been quick to criticize Congressman Steve Daines (R-MT) via Twitter for his vote against the budget deal in Washington, claiming he is now "owned by the Tea Party."
Apparently they haven't gotten the details of the budget deal. Here's the headline from CNN Money– Military Retirees: You Betrayed Us, Congress.
I guess all of those veteran and military retiree groups are just a bunch of morons in their book too?
Excerpt from CNN Money:
The Military Coalition, some 27 military groups, wrote to leaders in Congress and President Obama late Wednesday about their "strong objection" and "grave concern" over the budget deal.

When compounded, the 1% cut could result in much more than a 20% cut in retiree pension over the course of 20 years.

"While portrayed as a minor change, a 20% reduction in retired pay and survivor benefit values is a massive cut in military career benefits," wrote groups, including the Air Force Sergeants Association, Iraq & Afghanistan Veterans of America and the Marine Corps League, among others in the letter.
According to KULR-8 TV, Daines had this to say on the budget deal:
While he says he's encouraged both sides are working toward an agreement, he also says, "rather than taking serious and needed steps to address Washington's spending addiction and growing debt, this budget relies largely on spending cuts many years from now to offset immediate spending increases," said Daines.
Carol Goulet
Friday, December 13, 2013 12:38 PM
While I am neither full Democrat or Republican I don't feel that Steve Daines is a moron. If he is so are many others that want the government to cut un-necessary spending. Yet it seems the military and social security recipients are the first to be cut and the government just keeps spending. Most of us have to live within our means or be met with over drafts, reposseseion of items. Lets get real – the government is out of hand with spending!!