Aaron Flint
posted on November 25, 2013 14:02
:: 1624 Views
Here's another "whoops" from the letter department someone sent me from Twitter…I always get a kick out of these:
LOL Just like Washington D.C. Left is right, up is down, winning is losing … pic.twitter.com/OY2WZoDMbL

— James Schell (@schell4ehmayor) November 24, 2013
Schell actually *won* the election for Mayor of East Helena with 55% of the vote. (I don't think he's holding any hard feelings over the letter, these things happen in government…)
I imagine the staffer who sent this letter is paying for the next office coffee run. Here's how a listener to the talk show describes a letter sent from Senator Jon Tester (D-MT) to the Helena Capital boys basketball coach:
A letter sent from Jon Tester to Helena Capital boys basketball coach Guy Almquist. Unfortunately for the Senator, Helena Capital finished SECOND, not first in the State AA Tournament. And yes, the folks in Missoula were proud – as they won the state title……. #Fail
Here's a copy of the letter making the rounds: (Mailing address has been whited out for purposes of online post)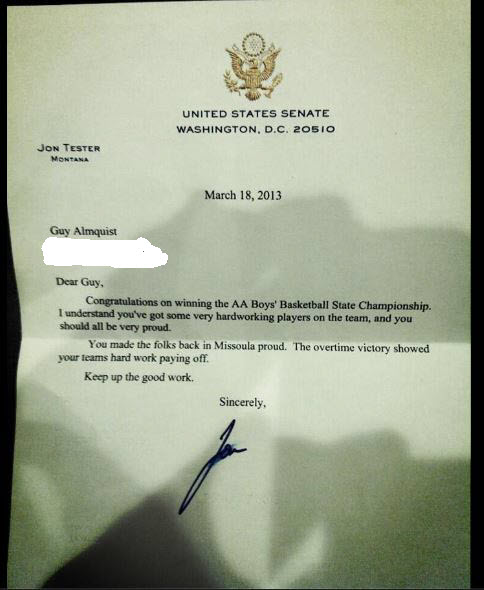 After receiving the letter via forwarded e-mails, I spoke with Coach Almquist Wednesday morning. He joked about posting the letter to Facebook, adding that it wasn't political, he just thought it was funny. Coach Almquist says he got a call from Tester's Chief of Staff Wednesday morning who called the letter "an incredible error."
As for "making the folks back in Missoula proud"…Helena Capital's Coach Almquist quipped, "Well, I am from Missoula originally." Capital lost in the State AA tourney in overtime to Missoula Hellgate 58-53.

WHOOPS: Tester Congratulates Wrong Coach