Montana Democrats are struggling for candidates in both the US Senate and the US House races in Montana, but is the GOP on the verge of a circular firing squad? That's the question I posed to the NRCC's Andrew Clark.
Plus, a new national report on Obamacare costs from the Kaiser Foundation cites an example from Montana. And, my interview with North Dakota Congressman Kevin Cramer, Chairman Doc Hastings (R-WA) and much more is included in this week's Political Trough.
But first, let's talk football. Here's a quote from the email of the week from BankruptingAmerica.org, an educational project of Public Notice:
SHOT: "Baltimore Ravens To Aid Obamacare Enrollment Effort In Maryland." (Kyle Cheney, "Baltimore Ravens to aid Obamacare enrollment effort in Maryland," POLITICO, 9/3/13)

CHASER: "Peyton Manning (7 TD Passes), Broncos Thrash Ravens In Opener."

("Peyton Manning (7 TD passes), Broncos thrash Ravens in opener," The Associated Press, 9/5/13)
Speaking of football, our Montana Sports man- Rocky Erickson- previewed the opening of Montana high school football with the great story of Koni Dole, click here to listen to his interview with Koni Dole *before* Koni started getting all the national attention.
Fox News: Koni Dole Raw Video
Watch the latest video at video.foxnews.com
The New York Daily News also picked up the story:
Montana amputee Koni Dole helps lead high school team to win in big return- Less than a year after his right leg snapped and became infected during a game, the Huntley Project senior is back on the field, defying estimates that he'd have to let go his favorite pastime for good.
Meanwhile, The Wall Street Journal reports on a new Kaiser Foundation study examining the cost of Obamacare premiums, and if you look at page 16 of the report, you will see an example from Billings, Montana.
Here's a screenshot: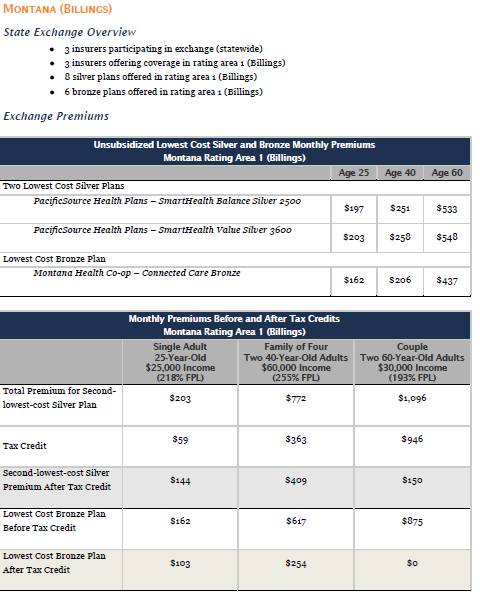 Now, on to Sage Grouse. I interviewed Chairman Doc Hastings (R-WA) following the US Congressional Field Hearing in Billings, Montana. Click here to listen to my interview with Chairman Hastings, and Russell Nemetz' interview with Congressman Steve Daines (R-MT).
Below is my interview w/ Congressman Kevin Cramer (R-ND) following the hearing:
Panel of conservatives…give me a break. The Montana Farm Bureau, the Crow Tribe, an elected county commissioner, and others from Montana were the panelists.
Panel of conservatives tell GOP cmte members what they want to hear about the ESA. Environmental attys react. http://t.co/JiqXZB50M7 #mtpol

— L. Lundquist (@LLundquist) September 5, 2013
From the Montana Farm Bureau:
Matt Knox, a Fergus County Farm Bureau member representing the Montana Farm Bureau provided comments during the House Natural Resources Committee Field Hearing on sage grouse conservation in Billings Sept. 4. The hearing, titled, "State and Local Efforts to Protect Species, Jobs, Property, and Multiple Use Amidst a New War on the West" drew interest from many entities affected by national legislation using the Endangered Species Act.

In his comments, Knox said Montana already has a viable and stable sage grouse population. "Bird numbers tend to vary due to weather patterns, predation, disease, wildfire and sage brush conversion. These are very real threats to the survival of sage grouse and should not be confused with misdirected conservation measures," said Knox. "Among these misdirected measures are several that are listed in the BLM's national strategy to protect sage grouse. They were developed by the National Technical Team (NTT) whose main interest is to restrict or eliminate land uses that in fact pose little or no threat to grouse."

Knox said some of the measures are predicated on the assumption that livestock grazing is associated with sage grouse population loss. "This ignores the parallel decline over the past half century of both livestock numbers and sage grouse on public lands. In 1953, there was approximately 18 million animal unit months (AUM) s on BLM land in the west. By 2000 that number was around 10 million AUMs. If grazing were the problem, sage grouse should now be flourishing. Retiring grazing as suggested by the BLM is based on political antagonism far more than real biology".

Knox pointed out that predation continues to be ignored by the U.S. Fish and Wildlife Service as a factor in sage grouse decline. "In the early 1900s sage grouse numbers began to grow as ranchers and farmers controlled coyotes, skunks, crows and ravens. The trend continued into the 1960s when efforts to control predators were curtailed through government regulation," explained Knox "An example is a very aggressive nest predator, the raven whose population in the west has grown by over 1000 percent since 1900. Predators are a factor and any effort to conserve the species needs to address the issue."
Like I said, the Political Trough is in no particular order…so let's switch tracks to drugs, drug laws, and the Bakken oil fields.
If we supposedly have this big drug problem in the Bakken- how is this supposed to help? Why did the drug czar come here? (By the way- word on the street is that several local law enforcement officers and county prosecutors were very offended that they weren't contacted ahead of or during the event.)
The Wall Street Journal editorial board laments "The Beltway Choom Gang"
In a sweeping memorandum last week, the Justice Department all but ordered U.S. attorneys nationwide not to enforce federal marijuana laws. The memo was a long-delayed response to voter referenda last November in Colorado and Washington states that legalized adult recreational use of marijuana, not merely in the usual fake "medical" context.

Justice warns that it will intervene if it discovers that marijuana is flowing to children or being trafficked to states where it is still illegal, though under federal law it is still illegal in all states. The memo tells prosecutors to ignore even "large-scale, for-profit enterprises," which are usually targets for taxation.

Prosecutorial resources aren't unlimited, and some crimes deserve more enforcement attention than others. But prosecutorial discretion is also not unlimited. A President can't simply make a blanket declaration that he won't enforce part or all of a law he doesn't like. He and the AG are effectively decriminalizing an entire class of narcotics crimes, rewriting a law passed by Congress. Imagine if a President decided to decriminalize securities fraud simply by decreeing that the government will devote no resources to prosecuting securities fraud.
The best bumper sticker…
I think I've got the best bumper sticker in the room. God Bless Montana #ro13 #Dream13 pic.twitter.com/3UU4ajvCRj

— Aaron Flint (@aaronflint) August 30, 2013
Scott Hennen interviews House Majority Leader Eric Cantor (R-VA) during his visit to the Bakken
From SayAnythingBlog.com:
House Majority Leader Eric Cantor spent the day in North Dakota today alongside Rep. Kevin Cramer. They toured oil operations in western North Dakota, but during an interview with talk radio host Scott Hennen Cantor talked about more than just oil.

"I am for the farm bill," Cantor said in response to that sort of criticism. "I have voted for the farm bill twice."

"There's a real issue about the farm bill. 88% of the farm bill is food stamps right now. What we've said in the House is we've said we have to proceed in an effort that makes fiscal sense that says to our farmers we are going to have the crop insurance you need."

Glasgow Courier: Tax Break Approved for Wind Farm Near Glasgow
The proposed $40 million wind farm would place up to 13 turbines on about 1,400 acres leased from four landowners south of Opheim. The turbines would generate up to 23 megawatts of power moved over NorVal Electric Co-op's transmission system. This is one of the elements of the deal still under negotiation.

The tax abatement lasts 10 years. For the first five years, the company would pay only 50 percent of the normal taxes. Every year thereafter, the abatement would drop by 10 percent. After 20 years, the county would have received $3.5 million in taxes, compared to $5 million with no abatement. But there might be no project at all without the tax abatement.
Great Falls Tribune: Montana senators undecided on action against Syria
Democratic Sen. Max Baucus, Montana's senior senator and chairman of the powerful Senate Finance Committee, attended a briefing Tuesday on the issue, his office said.
He has not made a decision on whether to support using force in Syria.

Democratic Sen. Jon Tester also remained undecided over the resolution, his office said Tuesday. "The president has made the right decision to seek authorization from Congress and I will carefully review the situation before making a decision on how I will vote," Tester said in a statement.
Washington Examiner: Why many Republicans won't support Obama on Syria attack
Early signs say it will be hard for President Obama to win congressional authorization for military action in Syria. That could change; lawmakers might re-write the president's draft authorization into something they can live with, ultimately allowing Obama to go forward. But whatever happens, Republicans have a compelling case for rejecting the president's request. Based on off-the-record conversations with some of them, this is it:
AP: Shuffle continues for MT congressional races
Former state legislator Corey Stapleton says he will be running for the U.S. House instead of the Senate.

Stapleton said it is clear that Daines will run for the Senate seat.
While I was in Orlando, Florida for the Defending the American Dream Summit, I asked Andrew Clark, the digital press secretary for the National Republican Congressional Committ (NRCC) for his take on the GOP primary, which appears to already have at least a half dozen potential candidates. Clark also gives his thoughts on the candidacy of John Lewis, a longtime staffer to the retiring US Sen. Max Baucus (D-MT).
Click below to listen:
Click to Listen
For background:
Wonder when @amurph gets around to making this http://t.co/vYdzrolBWS look like this http://t.co/XAB6n0yRkq cc @BobBrigham @aaronflint

— Robert Jones (@robertsays) August 27, 2013
After Baucus staffer announces run w/ website under construction- @NRCC mocks run with this page (screenshot) pic.twitter.com/7GBInLmhEA

— Aaron Flint (@aaronflint) August 27, 2013