Aaron Flint
posted on September 13, 2013 13:31
:: 645 Views
Here's the headline from The Helena Vigilante: ANTI-COAL PROTESTS ABOUT TO REIGNITE IN HELENA
The environmental group that staged an anti-coal protest last summer in which 23 people were arrested is returning to Helena this month with what one organizer calls "a little bit of an escalation of tactics from last year."

Blue Skies Campaign of Missoula will lead another anti-coal protest on September 15 and 16 to coincide with a meeting of the state land board, the political body that decides whether or not mining projects will happen and how much the state will charge operators. Though he won't say exactly what protesters plan to do this time around, organizer Nick Engelfried hinted at something big.

"If we can stop Otter Creek, it will send a message," Engelfried said.
As the protestors are welcomed back to Helena, here's hoping someone can turn up the AC for them this time around.
PRIOR POST
Aaron Flint
posted on August 21, 2012 12:05
:: 617 Views
Coal Protestors: Turn up the AC!
If you didn't hear about the coal protestors occupying the state capitol in Helena, Montana last week, you can read all about it on their website– ItsGettingHotInHere.Org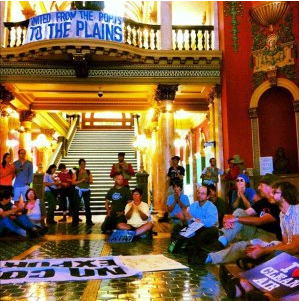 Apparently, "It's Getting Hot in Here" is not only the theme of their website and anti-coal campaign, it also got a little too hot in the Montana State Capitol for the young protesters and their suite of electronic equipment.
Democratic Governor Brian Schweitzer (MT) was my guest for the full hour on "Voices of Montana," the state's only statewide radio talk show, this morning. During the commercial break, I asked him about the protests and how the liberal blog DailyKos was trying to help them raise money.
"You know it was interesting for me because more than 50% of the electricity used in Montana is produced from coal," said Gov. Schweitzer.

The Governor added, "And while they were protesting, they had all of their electronic devices plugged into all of the places around the capitol so they could re-charge their iPhones and their iPads and their laptops, and whatever else they had….at one point a representative came to speak to the people who manage the capitol and asked if they could maybe turn up the air conditioner and bring the temperature down just a little bit, because it was kind of hot in the Capitol.
Click here to listen to the full clip with Gov. Schweitzer.