I've been on the road for most of this week, but there have been some interesting political news items that you may have missed. Senator Max Baucus (D-MT) hints at possible bankruptcy aid for Detroit. Did Arnold Schwarzenegger tell Montanans to "get into the solar-powered chopper?" Congressman Steve Daines (R-MT) Daines speaks in favor of Amash Amendment to prevent NSA mass data collections. And, The Flathead Memo discusses why Tester "stuck his shiv in Schweitzer's back." All that and more is in this week's Political Trough.
The Fiscal Times: Baucus Hints at Possible Aid for Bankrupt Detroit
Senate Finance Committee Chairman Max Baucus said Tuesday he has instructed his staff to explore ways that Congress might assist the city of Detroit in getting through the largest municipal bankruptcy in U.S. history.

"I think it's worth exploring, because it's a big problem," Baucus told The Fiscal Times in an interview. "I've asked my office to look at it, but they haven't gotten back to me yet. But somebody's going to look at it."

While Baucus was vague as to what — if any assistance – Congress could provide, he mentioned Detroit's two troubled pension funds that he said deserve federal attention. Those funds – one for general employees and the other for police officers and firefighters — together account for $3.5 billion of the city's $18 billion overall debt.
Former California Governor and Hollywood Star Arnold Schwarzenegger hit the fire lines in Montana for his "climate change" flick. I wonder if he told Montanans to "get into the solar powered chopper!"
Here's a picture sent to me from his visit near Missoula: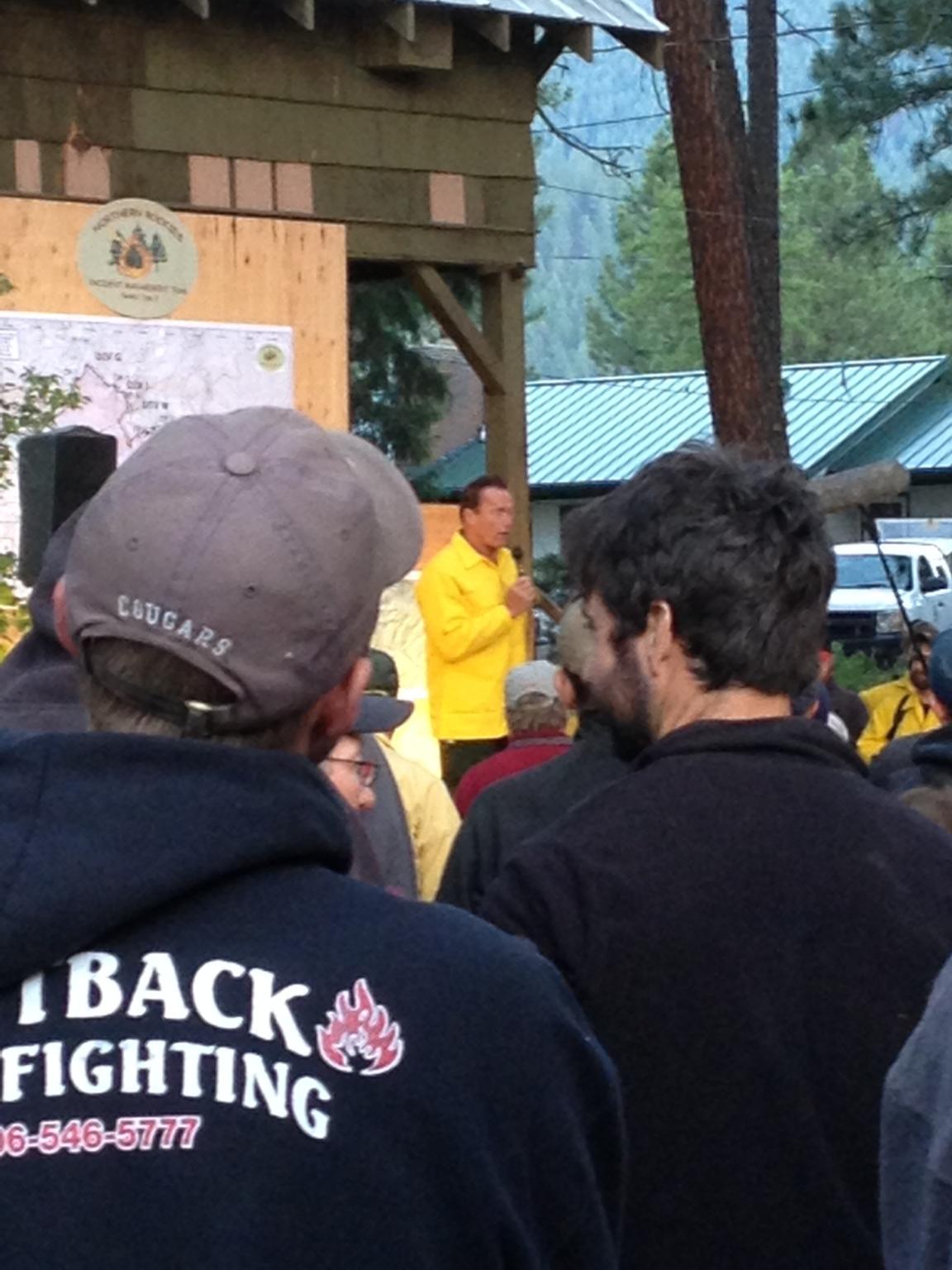 Montana Media Trackers: Daines speaks in favor of Amash Amendment to prevent NSA mass data collections
@SteveDaines speaks in favor of Amash Amendment to prevent NSA mass data collections #MTpol #MTal #MTsen http://t.co/CS45CdOYRH

— Media Trackers MT (@MediaTrackersMT) July 24, 2013
Dr Brad Anderson of Billings covers down with more analysis on the 2014 US Senate race in Montana for The American Spectator:
The post-mortems are still coming in on what exactly made Schweitzer decide not to run. The least likely explanation is the one given by the man himself — namely that he didn't want to become a senator because he is a doer, whereas the Senate is a place where "things go to die." As with so many things that come out of politicians' mouths, this has an element of truth, but it doesn't stand up particularly well to scrutiny. After all, there is a very important thing that hardly ever dies when a man is elected senator: his political career. Any politician with a healthy sense of self-interest and ambition (no one has ever accused Schweitzer of being self-effacing or timid) takes a crack at a Senate race he thinks he can win.

And it is perhaps there — with Schweitzer's self-interest — that the perfect storm of factors finally formed. Rumors have been flying that the offices of Montana's junior senator, Democrat Jon Tester, were the source of some of the negative leaks to the press about Schweitzer. Whether or not a fire exists, there has been enough smoke that both Tester and Baucus have felt compelled to deny having been anything but supportive of Schweitzer's bid. Still, it is no great secret that Schweitzer's relationship with Democratic Party leaders in Montana has often been, well, complicated.

North Dakota now has a Republican senator and another Republican barely lost the other seat in 2012. South Dakota can expect to have two Republican senators after the 2014 elections. No one is foolish enough to talk about Republicans controlling two seats in Montana, but this rare alignment of the political stars may deliver one. And for the GOP, that would be a welcome change of senatorial fortune in Big Sky country.
Meanwhile, Democrats face the worrisome prospect that Schweitzer's withdrawal will equate to Democratic losses down the ticket.
James Conner's Flathead Memo: Why Tester stuck his shiv in Schweitzer's back
Brian Schweitzer campaigned hard for Jon Tester in 2006. And Tester needed the help, defeating incumbent Republican U.S. Senator Conrad Burns by just 3,562 votes.

Last week Tester returned the favor with dirty dealings — rumors of dark money sins by Schweitzer and allegations that Schweitzer wasn't a team player — that persuaded Schweitzer to suddenly decide against running for the U.S. Senate next year.

Tester's official response is, of course, "Who? Me?" But I no longer consider his denials credible. The pieces of the puzzle are coming together, and the emerging picture is of a frightened politician who loves being senator so much he's willing to sacrifice Democratic control of the U.S. Senate to improve his own chances for re-election in 2018.
And, MSU Political Science Professor David Parker writes: The Ideology of Montana's Congressional Delegation in Historical Perspective
Interestingly, Rehberg is the most liberal of the Republicans who represented the state. And Jon Tester is fairly centrist. He's to the left of Senator Baucus, but nowhere near as liberal as Congressman Pat Williams or Senator John Melcher.