Aaron Flint
posted on June 07, 2013 15:38
:: 1828 Views
I got a great call during our statewide radio talk show from Vietnam Veteran Chuck Lewis, the Ronan, Montana Marin who is walking across the country to raise money and awareness for wounded warriors.
Earlier this week, Linda Sappington tol me that Chuck was in Minot, ND. He took a day offto catch up on things (like buying a new pair of shoes.) A kind person at the Minot AFB put him up in a hotel for the night, and then the hotel owners offered an additional night on the house.
She added that is was, "a nice change from the wet weather camping… with the exception of one sunny day, it's been downpours and high winds all the way across North Dakota. One day at a time…"

I spoke with Chuck just east of Minot, North Dakota. He talked of the honor as he walked Montana's American Indian Reservations, and the incredible honor they bestow on veterans. American Indians on a per-capita basis serve in the Armed Forces at a higher rate than any other ethnic group. He also talked about an incredible effort underway in Sidney, Montana to honor veterans.
Click below to listen to the full call with Chuck:
Click to Listen
You may have heard the story of Vietnam Veteran Chuck Lewis and his walk across America. Or, maybe you were one of the folks messaging me who saw him walking along Montana's Highway 2 and said, "was that him?"
The answer is a likely- Yes. Chuck Lewis called in to our statewide radio talk show Voices of Montana this morning as we were live on the air. In fact, he was listening to the radio as he began his walk this morning. (Carrying the radio was his wife's idea) Chuck was about 4 miles east of Wolf Point, Montana when he called in. By Memorial Day, he plans on walking to Sidney, Montana where he will serve as the keynote speaker for their Memorial Day ceremony. If you missed the show, you have got to listen to Chuck Lewis as he describes the trip thus far. Click here to go to our podcast page for the audio.
You can also click below to listen to Chuck's call in to the show:
Click to Listen
Linda Sappington, who is doing PR work for "Walking for the Fallen" sent out this background information on Chuck and his walk:
Marine veteran Sgt. Chuck Lewis, Montana Honor Guard of "Walking For the Fallen" is walking across America and will be arriving in Wolf Point between Monday, May 20 and Wednesday, May 21.

Lewis, a 62-year-old resident of Ronan, MT, left Everett, WA on March 31 and has averaged 22 miles per day on foot via Highway 2 on his way to the Vietnam Memorial in Washington, DC. Lewis plans to arrive at the memorial in late September, 2013.

The walk is both a fundraiser for wounded veterans and a personal tribute to those who have served. Please visit www.walkingforthefallen.com for information.

Lewis is also available to offer presentations to schools and civic organizations along the route. Track Lewis' progress, recorded every 10 minutes via Spot satellite, at www.walkingforthefallen.com/track
Picture below of Chuck Lewis and others is from the Walking for the Fallen Facebook page: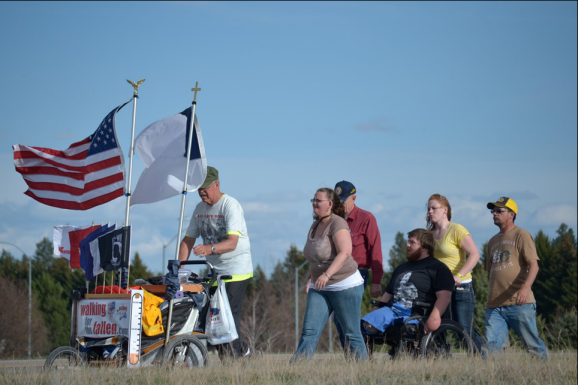 GREAT AUDIO: Montana Vet Walking Across US