Aaron Flint
posted on April 25, 2013 09:05
:: 10637 Views
Several sources are apparently saying that former Gov. Marc Racicot (R-MT) is considering jumping into the race for US Senate after Sen. Max Baucus (D-MT) announced his retirement earlier this week. I've also heard from sources close to Racicot back here in Montana who say he is "closer than he's ever been" to running for the Senate, and that was long before Baucus announced his retirement.
MSNBC's Jessica Taylor has this:
Following Sen. Max Baucus' (D-Mont.) surprise retirement on Tuesday, Democrats were immediately championing former Gov. Brian Schweitzer as an even better alternative to the departing Baucus. But Republicans are hoping that Racicot, a former Republican National Committee chairman, will enter the race on the GOP side.

"In Montana, if the image is Bush with Racicot or Schweitzer campaigning with Obama, we'll take the former any day and Sunday," said one national GOP strategist.

Some doubt Racicot is gunning to jump in, though several sources said he is considering entreaties his way.
Matt Miller writes an opinion column in The Washington Post where he asks, "Is there a soul outside Montana who is mourning Baucus's decision not to run for a seventh term?"
With one glorious stroke Max Baucus has made it possible for two of America's more interesting politicians to play bigger roles on the national stage. Not to be churlish, but I'll take Ron Wyden and Brian Schweitzer over a dozen Max Baucii any day. Never has a politician done so much to lift the prospects of the republic simply by saying goodbye.
Larry Sabato is ranking the race a toss-up, and includes this list of possible names: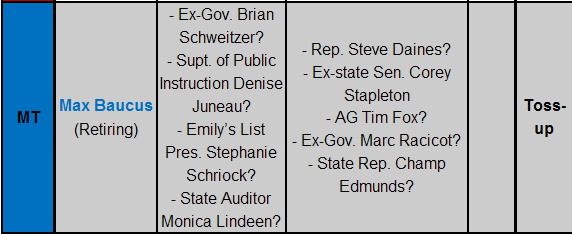 Kyle Kondik with The University of Virginia's Center for Politics added, "So maybe Brian Schweitzer really is senile enough for the U.S. Senate."
After the retirement of Sen. Max Baucus (D-MT) earlier this week, the former Democratic governor is certainly at the top of the Democrats' wish list to run for the now-open seat. Schweitzer, who was very popular during his recently concluded two-term governorship, has repeatedly thrown cold water on the idea of serving in Congress: "I am not goofy enough to be in the House, and I'm not senile enough to be in the Senate," he has said. But after the Baucus news broke, Schweitzer told John Adams of the Great Falls Tribune that, "I'm not ruling anything out, and I'm not ruling anything in."

Baucus retiring has prompted us to move this race from "leans Democratic" to "toss-up," but if Schweitzer runs for the seat, he will start as the favorite.

If Schweitzer does not run, then this race will probably tilt at least slightly to the Republicans. The trouble for both sides is a thin bench. Unproven Republicans already in the field include a couple of little-known state legislators, state Rep. Champ Edmunds (R) and ex-state Sen. Corey Stapleton (R), while newly-elected Rep. Steve Daines (R) is reportedly considering a bid. Among others, former Gov. Marc Racicot (R) may also be contemplating the race. Racicot was once dominant in Montana politics, but he has been out of office since early 2001 and has made his living as a big-time D.C. lobbyist and association head — not an especially popular perch from which to launch a Senate candidacy.