It's only been five years and already the federal government is nearly doubling its estimate of recoverable oil in the Montana and North Dakota region.
I first mentioned the news live on the air during our statewide radio talk show, Voices of Montana, Tuesday morning as Haylie Shipp passed on the news that the US Geological Survey now estimates that 7.4 billion barrels of recoverable oil exists in our region.
Congressman Kevin Cremer (R-ND) says he, Senator John Hoeven (R-ND), and Congressional staff were briefed on this latest report by USGS officials. The report released Tuesday indicates the Bakken Formation and Three Forks Formations, together, contain 7.4 billion barrels of recoverable oil, compared to the 2008 assessment of 3.65 billion barrels. Additionally, the new study found 6.7 trillion cubic feet of technically recoverable natural gas exists in the Williston Basin.
(Map courtesy USGS)
"This new data is exciting for North Dakota, and for the United States, as we continue to work toward the important goal of national energy security. I want to thank Senator John Hoeven for making such a strong case to the USGS for an updated study. Today confirms its need," Cramer said.
I also got instant reaction from Congressman Steve Daines (R-MT) who joined me in the 2nd half of today's show. Click here to listen to his reaction.
Daines echoed sentiments similar to his remarks at the recent GOP "Shrimp Peel" in Choteau, Montana.
The Fairfield Times had this: (photo courtesy Darryl Flowers, Fairfield Sun Times)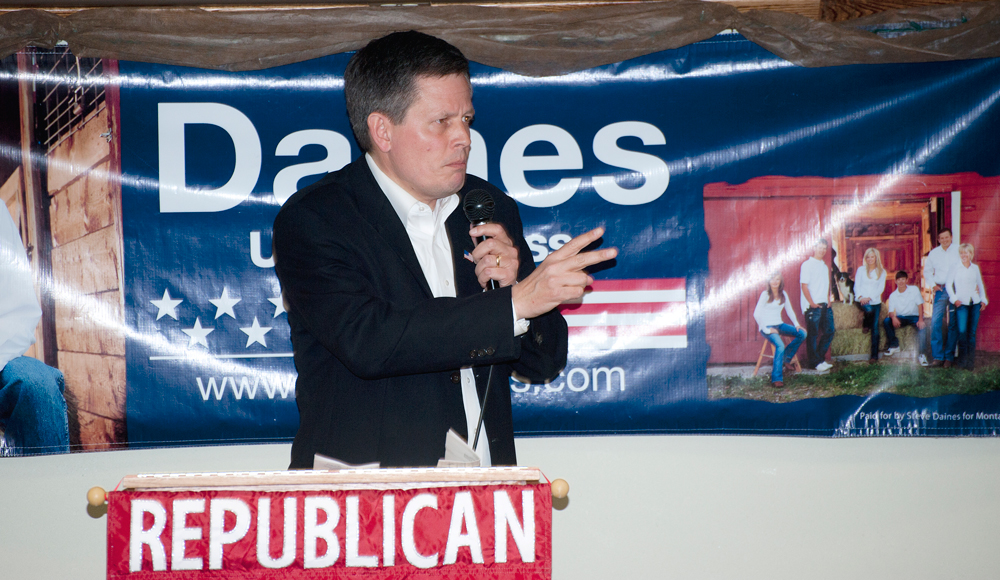 First-term U.S. Congressman Steve Daines, the keynote speaker, gave a stem-winder of a speech that brought the crowd to their feet. Daines' delivery was pointed as he spoke about the nation's energy independence being "within our grasp" during the decade. Daines added that the progress towards eliminating America's dependence on foreign sources of energy could still be stymied by "… extreme environmentalists, President Obama, and the Environmental Protection Agency."

Rep. Daines was on a roll as he talked about his recently introduced Montana Land Sovereignty Act. According to Daines, his legislation arose out of the abuse of the 1906 Antiquities Act by President Bill Clinton, "The Antiquities Act was intended to be used for small, archeological monuments." The Congressman cited such examples as Pompey's Pillar, which covers 51 acres, and the Little Big Horn Battleground, which occupies an area of 700 acres.

In describing his proposed act, Daines said it should be up to Montanans to decide the fate of public lands within the state.
FULL PRESS RELEASE FROM USGS
USGS Releases New Oil and Gas Assessment for Bakken and Three Forks Formations
Finds Formations Have Greater Resource Potential than Previously Thought
WASHINGTON, D.C.—The United States Geological Survey (USGS) today released an updated oil and gas resource assessment for the Bakken Formation and a new assessment for the Three Forks Formation in North Dakota, South Dakota and Montana. The assessments found that the formations contain an estimated mean of 7.4 billion barrels (BBO) of undiscovered, technically recoverable oil. The updated assessment for the Bakken and Three Forks represents a twofold increase over what has previously been thought.
The USGS assessment found that the Bakken Formation has an estimated mean oil resource of 3.65 BBO and the Three Forks Formation has an estimated mean resource of 3.73 BBO, for a total of 7.38 BBO, with a range of 4.42 (95 percent chance) to 11.43 BBO (5 percent chance). This assessment of both formations represents a significant increase over the estimated mean resource of 3.65 billion barrels of undiscovered oil in the Bakken Formation that was estimated in the 2008 assessment.
"These world-class formations contain even more energy resource potential than previously understood, which is important information as we continue to reduce our nation's dependence on foreign sources of oil," said Secretary of the Interior Sally Jewell. "We must develop our domestic energy resources armed with the best available science, and this unbiased, objective information will help private, nonprofit and government decision makers at all levels make informed decisions about the responsible development of these resources."
A key component of President Obama's all-of-the-above energy strategy is the availability of sound science to guide informed decision-making regarding the safe and responsible development of America's domestic energy resources.
"The USGS undertook this assessment of the Bakken and Three Forks Formations as part of a nationwide project assessing U.S. petroleum basins using standardized methodology and protocol," said Acting Director of the USGS Suzette Kimball. "Through this improved understanding of our energy resources, government, industry, and citizens are better able to understand our domestic energy mix and make wiser decisions for the future."
Since the 2008 USGS assessment, more than 4,000 wells have been drilled in the Williston Basin, providing updated subsurface geologic data. Previously, very little data existed on the Three Forks Formation and it was generally thought to be unproductive. However, new drilling resulted in a new understanding of the reservoir and its resource potential.
In addition to oil, these two formations are estimated to contain a mean of 6.7 trillion cubic feet of undiscovered, technically recoverable natural gas and 0.53 billion barrels of undiscovered, technically recoverable natural gas liquids. Gas estimates range from 3.43 (95 percent chance) to 11.25 (5 percent chance) trillion cubic feet of gas and 0.23 (95 percent chance) to 0.95 (5 percent chance) billion barrels of natural gas liquids. This estimate represents a nearly threefold increase in mean natural gas and a nearly threefold increase in mean natural gas liquids resources from the 2008 assessment, due primarily to the inclusion of the Three Forks Formation.
The primary source of oil for the Bakken and Three Forks Formations are the Upper and Lower Bakken Shale Members of the Bakken Formation. USGS assessed the Bakken and Three Forks Formations for both continuous and conventional resources. Unlike conventional oil accumulations, continuous oil remains in or near the original source rock, and instead of occurring in discrete accumulations is dispersed heterogeneously over large geographic areas.
The geological foundation that underpins the assessment was facilitated by data provided by the North Dakota Geological Survey, North Dakota Industrial Commission, Montana Board of Oil and Gas, and multiple industry groups working in this region. This new information and data allowed USGS to develop a more robust geologic model and understanding of the petroleum system of the Bakken and Three Forks Formations.
Technically recoverable oil resources are those producible using currently available technology and industry practices. USGS is the only provider of publicly available estimates of undiscovered technically recoverable oil and gas resources of the US onshore and state waters.
More Resources:
• 2013 Bakken and Three Forks Formations Assessment Fact Sheet
• Podcast Interview on the Assessment
• Bakken FAQ
• Bakken Media Gallery
• Energy Glossary
To learn more about USGS energy assessments and other energy research, please visit the USGS Energy Resources Program website, sign up for the Newsletter, and follow USGS on Twitter. For more information on the Interior Department, see www.doi.gov.