Aaron Flint
posted on April 11, 2013 12:15
:: 914 Views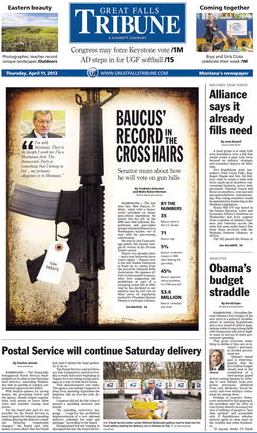 Earlier this week on this blog, I mentioned that Sen. Max Baucus (D-MT) would spend the months leading up to his 2014 re-election battle pretending to be pro-2nd Amendment, while simultaneously allowing gun control to move forward.
Fast forward to Thursday morning, Senator Max Baucus (D-MT) voted to allow a Democrat-backed gun control bill to move forward in the US Senate, and block a filibuster, but then released a statement shortly thereafter stating that he was opposed to the Democratic gun control bill.
To your left is a screenshot of Thursday morning's Great Falls Tribune noting Senator Max Baucus' (D-MT) mixed voting record on guns. The piece was also picked up by USA Today noting that Baucus was "mum" on the gun control bills making their way to the senate floor.
Here's an excerpt from the piece:
The last time Sen. Max Baucus, D-Mont., sided with a Democratic president on major gun-control legislation, he nearly lost his job. In the 1996 race that followed, Republicans and gun-rights groups slammed Baucus as a Washington insider, out of step with his gun-owning constituents.

On Wednesday, Baucus met with family members of the Sandy Hook shooting victims at their request, his spokeswoman Jennifer Donohue said. The meeting came as Sens. Pat Toomey, R-Penn., and Joe Manchin, D-W.Va., announced a compromise bill that would expand background checks on gun purchases to gun shows and online sales.

"Max is still reviewing the latest background check proposal carefully and listening to feedback from Montanans to make sure they have a chance to weigh in on all the details before he makes a decision," Donohue said.
How quickly the headline changed. While Baucus now says he is opposed to the Democrat gun-control bill, he is still apparently undecided on the gun control bill being advanced by Sen. Pat Toomey (R-PA) and the previously "A-rated" Sen. Joe Manchin (D-WV). Here's the latest news from the AP Thursday:
Baucus opposes Democratic gun-control bill
MATT GOURAS,Associated Press
HELENA, Mont. (AP) — U.S. Sen. Max Baucus says he opposes a Democratic gun-control bill but won't block a debate on the legislation.
The Montana Democrat did not take a stance on a developing bipartisan compromise on background checks by Democratic Sen. Joe Manchin of West Virginia and Republican Sen. Patrick Toomey of Pennsylvania.
Baucus told The Associated Press Thursday that Montanans are against the Democratic bill before the Senate Thursday and he doesn't like "the president's top-down, one-size-fits-all" push for gun control.
Senators were scheduled to vote Thursday on an attempt by conservatives to scuttle the bill from Democrats.
Baucus is up for re-election in 2014, and has faced criticism for his past support of gun control.
Copyright 2013 The Associated Press.