Aaron Flint
posted on March 06, 2013 11:28
:: 1149 Views
The Whitefish Winter Classic is underway, and several NFL players from Montana will be making public appearances in the Flathead. It's all part of an effort to help kids in need from all over Northwest Montana.
Doug Betters, a former football player for the University of Montana Grizzlies and "Killer B" with the Miami Dolphins, started the Winter Classic in 1984.
Several current and former NFL players will be in Whitefish to help out with the event, from Haloti Ngata with the Baltimore Ravens to Miami Dolphins' kicker Dan Carpenter. Carpenter's wife is a Plentywood native, so they'll be covering the entire Hi Line to attend the event.
Who else will be there? Click below to hear Doug Betters explain it:
Click to Listen
How will the money be spent? From WhitefishWinterClassic.org:
All monies raised go to a non-profit organization–For the Children, Inc., a 501C(3) corporation that disperse funds to Flathead Valley families whose children need medical care outside the valley, for example Boston, Los Angeles, St. Louis, Salt Lake City, Seattle and Spokane.

Our kids hail from Flathead Valley towns as well as Seeley Lake, Eureka, Martin City, Libby, and Polson. While heart surgeries, premature babies, and various cancers are the most common, kids battling leukemia are numerous.
Picture of Betters with area kids: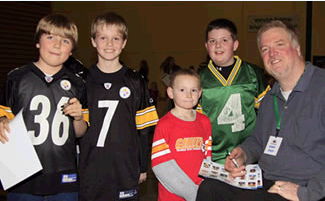 More background info on Doug Betters from the Winter Classic website:
Don Shula, Former Head Coach of the Dolphins, stated "No one had more heart than Doug. He was a sixth round pick in 1978 and established himself as one of the NFL's all-time great pass rushers." Over his 10 year career as a defensive end, Betters became legend in his role as member of the Killer B defense. His achievements included two Superbowls appearances, one Pro Bowl appearance, and 1983 Defensive Player of the Year.