Aaron Flint
posted on January 31, 2013 15:11
:: 1733 Views
This tweet caught my eye Thursday afternoon:

So I decided to follow up with Kevin Glass, managing editor of Townhall.com, and Ed Morrissey of HotAir.com to find out what Senator Baucus was referring to with the "Hunger Games" reference. "Hunger Games" is a popular book and movie series.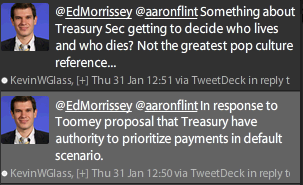 For further explanation, it looks as though Tracie Mauriello with the PostGazette.com appears to have the answer:
He (Baucus) used imagery from the popular book-turned-movie in order to blast an amendment by Republican Senate colleague Pat Toomey of Pennsylvania.

The amendment, which was brought to the floor and then immediately tabled on a 53-45 vote, would have ensure payments to active military, Social Security recipients and national debt holders even if Congress hasn't raised the debt ceiling.
Mr. Baucus compared the idea to "The Hunger Games," in which children were forced to fight to the death until only one survived.
Ah- I see. So there was an attempt to protect military service members and social security recipients in the event of a debt ceiling fight gone south, and he opposed it.
In other news, the liberal Missoula Independent may wonder if Sen. Baucus had pharmaceutical giant Amgen send in the cash with one of those GPS-guided parachutes used in "Hunger Games." Dan Brooks joins The New York Times and others with an opinion column titled "Friends with Benefits" in the Indy:
Amgen is the world's largest biotech company and the manufacturer of Sensipar, and it immediately announced its windfall to investors. The delay will cost Medicare $500 million, most of which will go to drug makers. At literally the eleventh hour of negotiations to save the country from fiscal collapse, Baucus found half a billion dollars for the pharmaceutical industry.

At the risk of terrifying yourself, consider that Amgen employs 74 registered lobbyists to exert its will on Congress. One of them is Jeff Forbes, Max Baucus' former chief of staff. You don't need to dig into personnel records to understand the connection between Baucus and Amgen, though; all you need are campaign finance reports. Since 2007, Amgen and its PAC have given Baucus approximately $68,000.