Chances are highly likely that you haven't heard of this upcoming documentary at your local cafe, however the liberal bloggers and some Helena reporters are all a-Twitter over the upcoming "Big Sky, Big Money" documentary airing on PBS Frontline this evening.
What's with all the hype? Most of it comes back to a catchy headline in this web article published by ProPublica and PBS Frontline: "Mysterious Docs Found in Meth House Reveal Inner Workings of Dark Money Group."
What? Western Tradition Partnership, a conservative group, is operating a meth lab? That's certainly what the headline leads you to believe.
So, what's the story? Apparently a convicted felon got a box of documents from his friend, who runs a meth house in Colorado. The convicted felon then gave those documents to the Colorado Democratic Party, which eventually gave them to the Montana Commissioner of Political Practices.
The PBS piece, apparently using the convicted felon as their main trusted source for the documents, added this:
Altogether, the records added up to possible illegal "coordination" between the nonprofit and candidates for office in 2008 and 2010, said a Montana investigator and a former Federal Election Commission chairman who reviewed the material. Outside groups are allowed to spend money on political campaigns, but not to coordinate with candidates.

"My opinion, for what it's worth, is that WTP was running a lot of these campaigns," said investigator Julie Steab of the Montana Commissioner of Political Practices, who initially received the boxes from Colorado.
This also begs the question, if the politically appointed Montana Commissioner of Political Practices has been holding on to these documents since 2011 and feel this group was violating the law- how come no charges have been filed?
Chuck Johnson, with Lee Newspapers, previously reported on WTP back in 2008. No doubt, while WTP is a conservative group, they are clearly no GOP establishment group either. In fact, they've angered several Republicans in the state after attacking certain Republican candidates on issues during hard-fought primaries.
Donny Ferguson, a spokesman for ATP launched a full defense of ATP, and attacked what he calls the "bizarre and false claims" contained in the PBS piece.
Here's the text of the full response, found on Ferguson's blog, and emailed to me from a listener in Helena:
BOZEMAN — American Tradition Partnership Executive Director Donald Ferguson released the following statement Monday morning regarding bizarre and false claims made by PBS:

With days to go until Montanans vote, the activist group ProPublica has decided to release a misleading, sensationalist story built around personal property stolen from a car and delivered by a meth user to ATP's political opponents. The story falsely links ATP to individual activities the organization has no connection to.

ATP always has, and always will, obey every applicable law. As has been the case with every legal issue we have brought forward, this will be decided in ATP's favor for one simple reason – the law is always on our side. In fact, ATP just won another court case this morning against the Commission on Political Practices for that exact reason.

ATP does not, and never will, tell voters which candidate to vote for. ATP speaks on the issues, informing voters where candidates stand and of their public records.

Additionally, no candidate has any say or control over what ATP publishes. I have never met or spoken to virtually all the candidates on the ballot. Other than sending them a candidate questionnaire I have never communicated most of them. The story itself admits there is no proof of coordination, and there is no coordination.

Additionally, I seriously doubt stolen property acquired by a meth user and spread around by political activists are true, accurate, unaltered and complete documents. Earlier this year another liberal group stole documents from another free market environmental organization, the Heartland Institute, and proceeded to engage i forgery and fraud for the purposes of smearing conservatives for political gain (http://spectator.org/blog/2012/02/17/theft-and-apparent-forgery-of).

In the past Frontline has broken into computer databases for a story on tuna fishing and relied on the word of a convicted felon fired from an Atlanta dentistry clinic to smear private dentistry, without informing viewers. ATP, on the other hand, has always obeyed every letter of every applicable law and eventually won every court case it has ever brought.

I would suggest the media tread carefully before publishing politically-timed stories built on stolen and possibly forged documents that are unrelated to ATP and distributed by a meth user, politicians and a program with a history of unethical and illegal practices.

The New York Times also featured a preview of "Big Sky, Big Money" and separately wrote an editorial critical of ATP:
If you are already dismayed at the spending and tactics that have characterized this election season, better stay away from Tuesday's episode of "Frontline" on PBS. The piece, "Big Sky, Big Money," looks at the shenanigans in Montana in the last four years, and the picture it paints of American electioneering certainly suggests a beast out of control.

Mr. Ryssdal manages to get himself a tour of American Bridge 21st Century, a Democratic-leaning super PAC, and he interviews James Bopp Jr., the lawyer who initiated the Citizens United case and who continues to push for the dismantling of campaign-financing restrictions. "The average voter could care less who's funding a politician," Mr. Bopp asserts.
Related: Bozeman Daily Chronicle, "Jake Jabs Says He's Not a Part of It"
Jake Jabs, the Colorado furniture chain owner who gave a record $25 million to Montana State University, on Monday vehemently denied national news reports naming him as the apparent founding donor of American Tradition Partnership, the secretive group challenging Montana's campaign finance laws.

"I never, ever gave them a penny," Jabs told the Chronicle in a telephone interview. "It's all crap. None of it is true. They're using my name."
That original ProPublica and PBS FRONTLINE piece also added this:
The first issue of the partnership's Montana Statesman newspaper, dated Oct. 7, which a group press release said was sent to 180,000 voters, featured four photographs on the front page: Three of registered sex offenders, and one of Bullock, accusing him of allowing one in four sex offenders to go unregistered. "Bullock admits failure," the headline announced. A full-page ad accused Bullock of taking illegal corporate contributions and of "criminal hypocrisy."
Separately, ATP has also been taking Bullock to task for steering state contracts to his brother's business: (Note: I have not been able to independently verify the claims made below)
American Tradition Partnership turned over to the FBI's Public Corruption Unit Sunday several state and public documents detailing how in 2010 Attorney General Steve Bullock's Justice Department steered a $262,017.38 state contract to an "environmental services" business owned by Bullock's brother, and which pays rent to a building owned by Steve Bullock himself.

"It appears Attorney General Bullock is handing state contracts to his brother's company which he personally profits from," said ATP Executive Director Donald Ferguson. "At best using your state position to funnel cash to your brother and yourself is a serious breach of ethics and the public trust. At worst Attorney General Bullock may very well have committed a crime. These are the kinds of dealings the FBI's Public Corruption Unit investigates, and prosecutes."
Oddly enough, I took a look at that New York Times editorial. Here's a screenshot of the ad that happened to be sitting right on top of their editorial: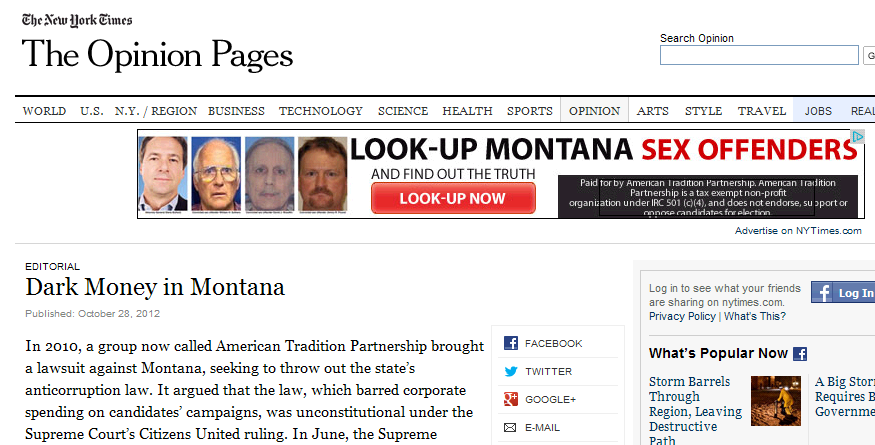 Will "Big Sky, Big Money" deliver? Or, will it turn out to be nothing more than a bunch of hype? We'll have to tune in and find out. In the meantime, one thing is certain- if you're in Denver and looking for meth, apparently the Colorado Democratic Party can hook it up.
Click below to watch a preview of "Big Sky, Big Money."
Watch Big Sky, Big Money, an investigation with Marketplace on PBS. See more from FRONTLINE.