Aaron Flint
posted on September 18, 2012 11:27
:: 1732 Views
There they go again. As Montana forests burn, two environmental groups are suing to stop a beetle-kill logging project in the Little Belt mountains of Montana.
In a lawsuit filed Monday in federal court in Missoula, the Alliance for Wild Rockies and Native Ecosystems Council question the severity of the mountain pine beetle hazard and say the Forest Service should have completed more environmental review of the impact of the logging on wildlife habitat before approving the work.
Now, these environmental groups typically rail against carbon emissions when it comes to shutting down your job at the power plant, at the coal mine, or your job on the coal-hauling railroad. But, as they sue to block the selected harvesting of pine-beetle killed forests which fuel fires, there's an interesting report concerning the emissions that come from wildfires in Montana.
This season of Montana wildfires released more than 7 million tons of emissions into the air, according to the U.S. Forest Service. Officials say over time these byproducts will move out of the air naturally, but there could be indirect effects.

One example is mercury. The Forest Service estimates nearly .87 tons of mercury emissions have been produced this year. This is a small amount compared to the carbon monoxide emissions which are estimated to be more than 500,000 tons and carbon dioxide emissions which are estimated at more than 7,000,000 tons.
So, what do all of these emissions mean? How does the 7 million ton number translate, and how does this whole debate also involve our water supply?
Click here
to check out a must-read guest opinion column in
The Wall Street Journal
by Terry Anderson of the Bozeman-based PERC. Here's an excerpt:
A fuels-management project to log and thin 4,800 acres in the Bozeman, Mont., watershed exemplifies the problem. This project has been held up since 2010 on grounds that the environmental-impact assessment did not adequately protect the habitat of the Canadian lynx and the grizzly bear, both listed as threatened species.
Now a wildfire threatens the watershed, burning over 10,000 acres and costing more than $2 million to fight. As one firefighter put it, "fire is the environmentalist's way of thinning the forests."

Making matters worse, dense conifer canopies intercept rain and snow, with 30% lost to evaporation instead of soaking into the ground or flowing into rivers.
Anderson then added that water lost to evaporation amounts to a 26 year supply of water for the entire city of Los Angeles. Additionally, he cited a study showing that a few weeks of emissions from wildfires amounts to an entire year of emissions from cars.
Anderson pointed out the fire burning near Bozeman. Earlier this month, those of you near Billings and in Southeast Montana certainly recall, and are still feeling the impacts of, the Ash Creek Fire, the Dahlf Fire, and others. Amidst all the coverage, you may have missed this one tiny news story that printed in The Billings Gazette: (No big front-page spread like the anti-coal, anti-rail, anti-oil opponents received on a recent Sunday? I may have missed it…- h/t talk show listener Mark in Billings)
More than five years after it was proposed, a fuels reduction project on the Ashland District of the Custer National Forest has been canceled after this summer's Ash Creek fire engulfed the area in flames.

District Ranger Walt Allen officially laid the logging project to rest in a letter dated Aug. 31. The work was meant to reduce the chance of an intense wildland fire — like the one that burned this summer — from quickly spreading. The project on about 7,000 acres north of Highway 212 had been repeatedly challenged by environmental groups, delaying its implementation.
File photo of the Ash Creek Fire courtesy of Ann Emmons.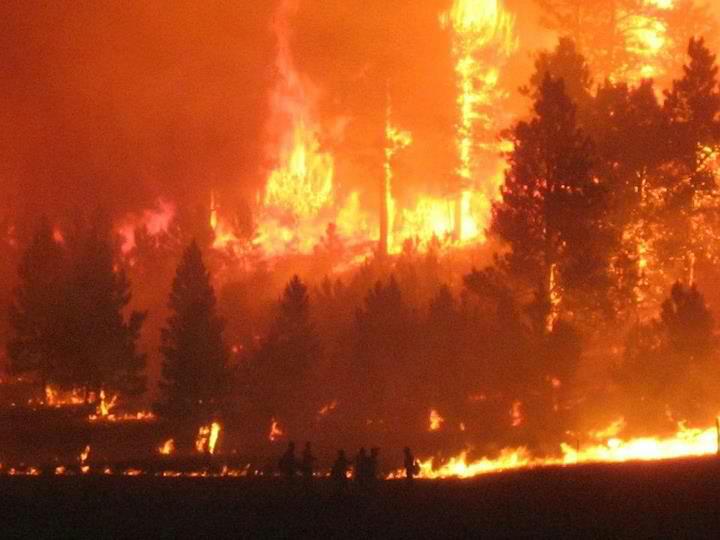 Aaron Flint
Tuesday, September 18, 2012 1:33 PM
Ken- you know the rules. Callers are given once a week to call in- whether liberal or conservative, R or D etc. If I let you call in every day-then I would also have to allow Fred and Velma from Kalispell (and on down the list) to call in every day.
To your point- the 7million tons is a separate number and separate article from Terry Anderson's piece in the WSJ. The 7 million is a govt estimate of MT wildfires this summer, while Anderson is talking about another number for a broader region. Link is included above.
Sounds like you mainly wanted to add that one point to the show today- feel free to email me at studio@northernbroadcasting.com and I will happily share with callers. Better yet- I'm sure you have friends who share your views- you should encourage them to also call in. Thanks for the feedback and for commenting on the blog.