The group "Concerned Women for America" (CWA) are fighting back against Sen. Jon Tester (D-MT) with a statewide bus tour in Montana. So far, they've already made stops in Missoula and Kalispell, with stops in Helena, Bozeman, and Billings yet to come.
You may recall CWA and their "Spenditol" ad. The ad was a spoof on a prescription drug commercial stating that Sen. Tester's response in the US Senate was to simply "spend it all." The Senators campaign then responded with an attack on CWA, which you can read about in an older post from July 2011 that I pasted below.
Now CWA is firing back at the Senator just months before election day.
Here's an excerpt from their press release:
The "She Votes 2012" campaign will work to mobilize members in key states to change the trajectory of our nation through grassroots education and activism. Organizers will focus on three main areas:
· Voter registration
· Voter identification
· Voter turnout
Link to full schedule: http://www.cwfa.org/SheVotes2012BusTour.asp
Tuesday, August 14th
Helena, MT
Montana State Capitol
1301 East 6th Avenue
9:30 AM
Bozeman, MT
Lindley Park
15 Cypress St
12:45 PM
Billings, MT
Amend Park
5091 King Avenue East
4:00 PM

PRIOR POST
Concerned Women Demand Apology from Tester
Aaron Flint
posted on July 31, 2011 23:38
:: 1758 Views
(Note, the following post is an updated post that contains elements from a story I originally published this past Wednesday. Apparently my parking lot wi-fi blog update before heading to golf Old Works wasn't too successful, so the full post didn't link properly)
The group behind the "Spenditol" ad targeting Senator Jon Tester (D-MT) on the airwaves in Montana, is demanding an apology from the senator and says his campaign lied when attacking their record battling child pornography.
It all started with the Spenditol ad targeting Tester, which said Tester's response to all of America's problems is to simply "spend it all." The ad was funded by Concerned Women for America. The Tester campaign then responded with a fundraising e-mail stating this (Screenshot of fundraising e-mail included below):
More than anything, I'm angry at their nerve. I did some digging around, and here's an interesting fact: this same special interest group attacking Jon right now also lobbied Congress against child pornography protection. If you ask me, that's something the women of Montana (and all of America, for that matter) should be concerned about.

Penny Nance, CEO of Concerned Women for America immediately called for an apology:
"Senator Tester's smear attack on Concerned Women for America is a complete disgrace," said Penny Nance, CEO of Concerned Women for America LAC. "The Tester campaign's assertion that CWA lobbied Congress against child pornography protection is absolutely false. To the contrary, CWA strongly supports tough penalties for those who peddle in child pornography. And Senator Tester should have known better—it is publicly known that I was personally the victim in an attempted sexual attack by a suspected pornography addict while I was pregnant with my daughter. I was rescued by a passing motorist, and have spent the last 15 years as a champion against child pornography and indecency—including more than 3 years of public service working on this issue at the FCC. Concerned Women for America demands an apology from Senator Tester for this false and unseemly attack."
After hearing from Nance, I reached out to Senator Tester's office for a response. Jennifer Rubin with The Washington Post's "Right Turn" reached out as well, you can read her piece, "Tester's Attack on Conservative Women Backfires," by clicking here.
When asked what basis the Tester campaign used to crticize CWA, Tester spokesman Aaron Murphy cited the Concerned Women of America Legislative Action Committee website:
CWA clearly opposed HR 1161, the Child Obscenity and Pornography Prevention Act of 2003, in the 108th Congress (search for HR 1161 at http://capwiz.com/cwfa/issues/bills/). Hardcopy records also indicate CWA lobbied against it. HR 1161 was a bipartisan bill introduced by Rep. Lamar Smith, R-Texas.
To that, Concerned Women CEO Penny Nance went further, saying Senator Tester's campaign outright lied when attacking her organization:
CWA has spent the last 30 plus years as the protector of children and families against the evil of child pornography and adult obscenity. We have gone to great effort and expense to work in both the states and Washington to 1) advocate good public policy and 2) force DOJ to do their job in enforcement.
Tester's response show's their ignorance of the issue. In their effort to do slimy opposition research they didn't take the time to check their facts. CWA's concern with the bill in question was the provision that further codified the Ashocroft v Free Speech Coalition decision and created an affirmative defense that makes it more difficult for the prosecution of pedophiles. The practical reality of this bill's language is that all over the nation prosecutors have to show birth certificates in order prove that the pictures are of real children. Sometimes this is difficult to do because either they don't know the kids or really tramatic because the children in question are now adults and have to be reminded of the assault all over again.

Ernie Allen of the National Center for Missing and Exploited children has spoken about the problem with current law as well. Other members of the coalition against pornography worked with us including two form DOJ officials who worked in this area of the law. Unfortunately history tells us that Jan LaRue was right in her predictions.

Senator Jon Tester's campaign lied when they accused us of not protecting children. He needs to apologize or keep hearing from me for months to come. This an attack on the very character of our organization. I have no choice but to fight back.
Bottom line, it looks like the Tester camp used some weak opposition research to attack Concerned Women for America. It's a bill going back to 2003 for starters. Second, would the Senator now stand up and advocate for this bill?
But here's where it gets interesting. Tester launched an attack on a group that very clearly seems to have dedicated decades to fighting not just child pornography, but all pornography. Meanwhile, if Tester and others really do want to crack down on child pornography, they should look for the culprit a little closer to home. In fact, he can start with the Democratic nominated judge serving in Missoula. US District Judge Don Molloy was recommended by Tester's partner in the US Senate, Sen. Max Baucus (D-MT), and appointed by President Bill Clinton. That's right folks- the same judge who has blocked Montana's ability to deal with livestock predators (wolves), has also blocked Montana's ability to deal with child predators.
Certainly prosecutors and members of Montana's law enforcement community can remember a time when prosecutions under the Adam Walsh Act could not be made in only one District in Montana- Judge Molloy's. Why? Judge Molloy ruled that the sex offender registry created under the Adam Walsh Act was un-Constitutional.
But the real fight that Tester and Concerned Women for America find themselves in deals with digital child pornography. In fact, CWA says the reason they opposed the bill that Tester criticized them for, is because the bill would not have cracked down on digital child pornorgraphy. They pointed to this legal memo from the former Chief of the Department of Justice Child Exploitation and Obscenity Section.
It was Judge Don Molloy who ruled against a law banning virtual child pornography.
You may recall this story from The New York Times:
Writing for a two-to-one majority, Judge Donald W. Molloy said that Congress and the courts have traditionally defined the problem of child pornography in terms of the harm inflicted on the "real children" who served as models for the pictures. Relying on a landmark child pornography decided by the Supreme Court in 1982, New York v. Ferber, Judge Molloy reasoned that protecting the actual children used in the creation of the repugnant sexual material is a "compelling state interest," referring to the high standard that a law must meet to survive strict First Amendment scrutiny. But Congress has no compelling interest in regulating sexually explicit materials that do not contain visual images of actual children, he said.

In reaching his conclusions, Judge Molloy rejected the government's main justification for a ban on virtual child porn: that it whets the appetite of pedophiles and causes them to victimize real children.
And that folks is what makes this campaign stumble an even bigger story, even though I suspect the Montana press corps will largely ignore it. While the Tester campaign launched what appeared to be a knee-jerk attack on Concerned Women for America, they opened themselves to yet another attack. Congressman Denny Rehberg (D-MT) has already cited the Democratically-appointed Judge Don Molloy as a reason for why Montana needs a Republican in the US Senate. While attacking CWA, Tester has reminded Montanans once again that, be they wolves or child pornographers, those predators only got favorable rulings because a judge like Don Molloy was recommended by a Democratic Senator from Montana.
Copy of Tester fundraising letter: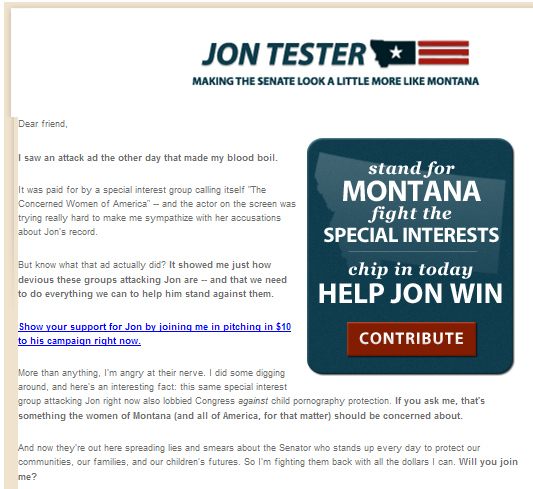 Spenditol Ad: