On Saturday morning I sat down with conservative commentator Michelle Malkin who talked about the war on our ports in the Pacific Northwest, and how this is really an extension of the "Occupy" movement. Malkin called the young people now rallying against coal exports, grain terminal upgrades, and railroad shipments as "OccuTools" serving as a front for dying big labor.
Ironically, that very same day members of "Occupy Missoula" were staging an anti-coal rally outside the Montana Republican Party convention gathered in Missoula.
Here's more from the protesters website:
Friday evening, delegates at the Montana Republicans State Convention received an unexpected visit and serenade from the Blue Skies Campaign and Occupy Missoula.

Wielding a 20-foot wide banner, and singing anti-coal carols to the tunes of "Mary Had a Little Lamb" and "Take Me Out to the Ball Game," the group marched into the parking lot of the Hilton Garden Inn where delegates were gathered outside the doors.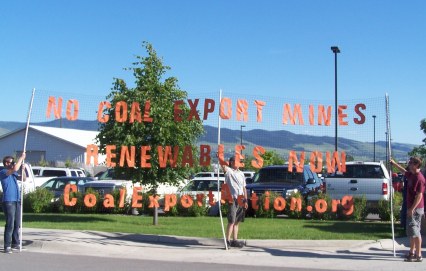 Meanwhile, in Helena, the Occupy movement targeted local law enforcement with their efforts. As both the Helena IR and KXLH-TV report, "Occupy Helena" is questioning the Helena City Commission over a request from law enforcement to purchase a bulletproof vehicle.
Members of the Occupy Helena group are asking city police to explain why it needs an armored vehicle.

The letter states: "Despite Chief McGee's assurances, we're concerned that there may be a strong human tendency of authorities, once having acquired such capabilities, to find (or invent?) "reasons" (excuses?) to deploy them, even if not necessarily justified by the particular circumstances."
From The Helena Independent Record:
Gary Carnefix of Occupy Helena addressed the Helena City Commission during the time reserved for public comment on the city budget to question expenditures on what he called an "urban assault vehicle" and part of a trend toward militarization of civilian police forces.

Carnefix questioned the need in a mostly peaceful area for the bulletproof Ballistic Engineered Armored Response vehicle that can carry about 16 officers.