Aaron Flint
posted on April 19, 2012 09:26
:: 1250 Views
The President of the University of Montana stepped into a pair of women's high heel shoes and took a symbolic stroll across the UM campus Wednesday, as The Missoulian's Chelsi Moy reports. It was all part of an effort to repair the University's public relations image after a series of rape allegations.
The Missoulian added this:
The men's march is part of an international event sponsored locally by the UM Student Assault Resource Center to stop rape, sexual assault or gender violence.

Conspicuously absent from the event was a group that in past years has been front and center: UM's male athletes, and in particular, the Grizzly football team. Not a single male athlete attended. Football coaches have even donned heels in past years for the event and football coach Bobby Hauck spoke at the event in 2008.
Of course, all the focus has been on the football team, as several players have already been apparently convicted in the court of public opinion.
What about the Dean of Students? Was he at the event? You may recall that the Dean of Students gave the heads up to a Saudi student that the student was being accused of rape. After multiple phone calls from the Dean of Students, the Saudi student fled the country.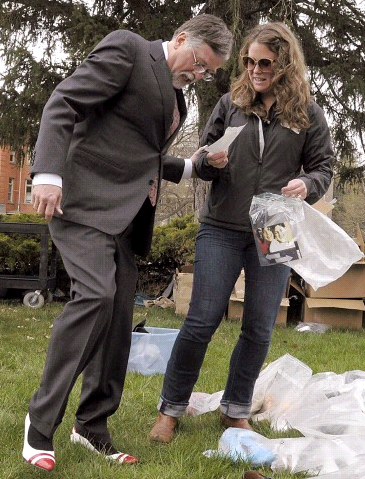 -photo used courtesy The Missoulian, click here to see more pictures and the full story.