Aaron Flint
posted on July 11, 2011 22:30
:: 1626 Views
Noting that only 5% of Republican gubernatorial candidate Neil Livingstone's campaign contributions came from Montanans, Lee Newspapers' Chuck Johnson added this:
It's not unusual early in a campaign for candidates for governor to turn first to their close friends and contacts for money, said Ed Bender, executive director of the National Institute on Money in State Politics, a nonpartisan nonprofit group based in Helena.

"He's going to the world that he knows and to the people he knows," Bender said. "But for him to be viable in Montana, he's going to have to go to people who know Montana politics and how to put together a campaign in a largely rural state."
You may already have seen this picture sent out via Marnee Banks through Twitter showing his newly announced Lt. Gov candidate Ryan Zinke. Well, now Livingstone has announced the formation of his campaign team. (Details below)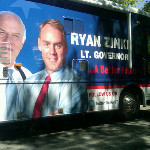 Campaign team, according to Livingstone press release:
Beth Cargo – Beth of Helena, will serve as our campaign chairman. A retired Colonel of the U.S. Air Force, Beth currently is Chairman of the Montana Federation of Republican Women.

Ed Buttrey – State Senator Ed Buttrey, of Great Falls, a fourth generation Montanan and respected member of the State Senate, is finance chairman.

Julie Fenwick – Julie, of Butte, joins the campaign as deputy campaign chairman. Julia has been involved in local and state politics for years andmost recently has served our state working on homeland security issues.

Bruce Seiler – Bruce, of Helena, is the campaign's treasurer. Bruce is currently president of Small Arms Development & Testing Co. here in Helena and worked as U.S. Secret Service protecting both Presidents Ronald Reagan and George H.W. Bush.

Renny Hellickson – Renny, of Kalispell, is a former Director of Government Affairs at American Express and former senior staff member to U.S. Senator Conrad Burns, will serve as Finance Director. Renny was Finance Director to Senator Conrad Burns in 2000 and has also raised money for President George Bush and many other Republicans. Renny brings with him real-world fundraising experience.