Shortly before 1:00 PM Wednesday:
UPDATED POST
Had this picture sent to me from a friend in Big Timber at 9:50 AM- showing an updated view of the water covering I-90 near Big Timber.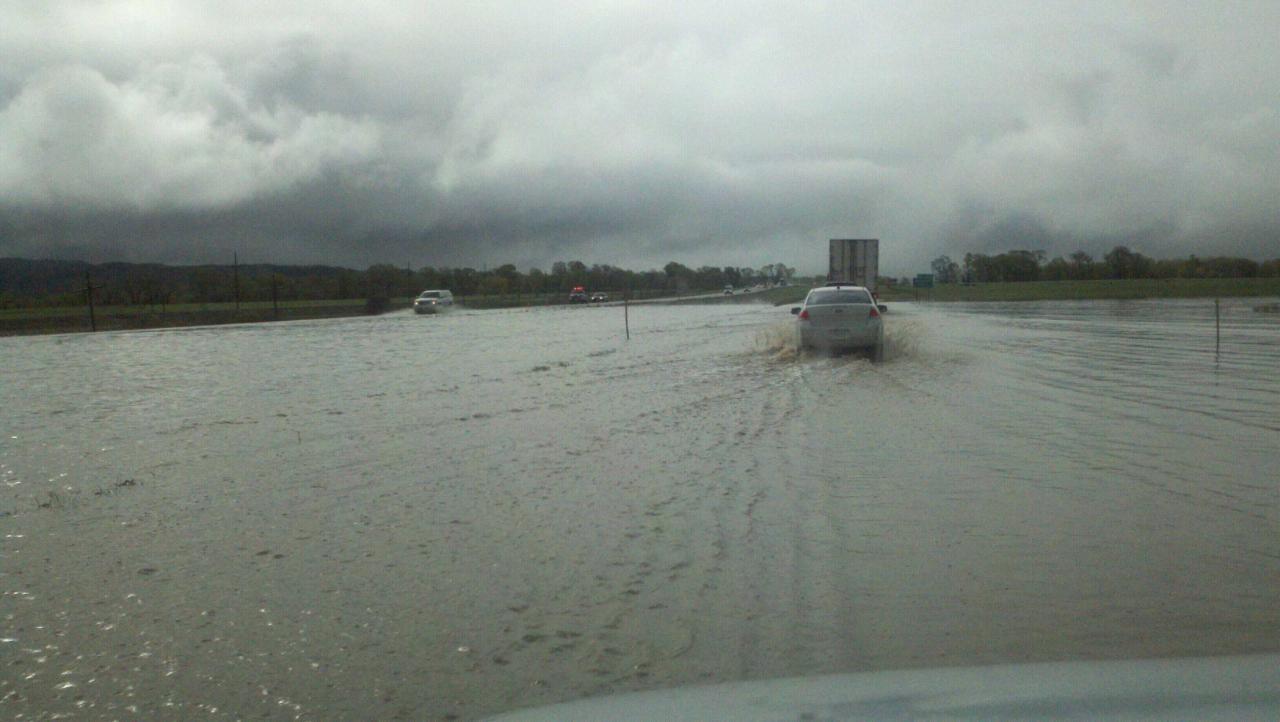 Flooding overnight in downtown Lewistown:
Interstate 90 near Big Timber is now covered in water. As our statewide sports host Rocky Erickson and Sales Manager Randy Gerringa make their way to Helena, they snapped these pictures from I-90.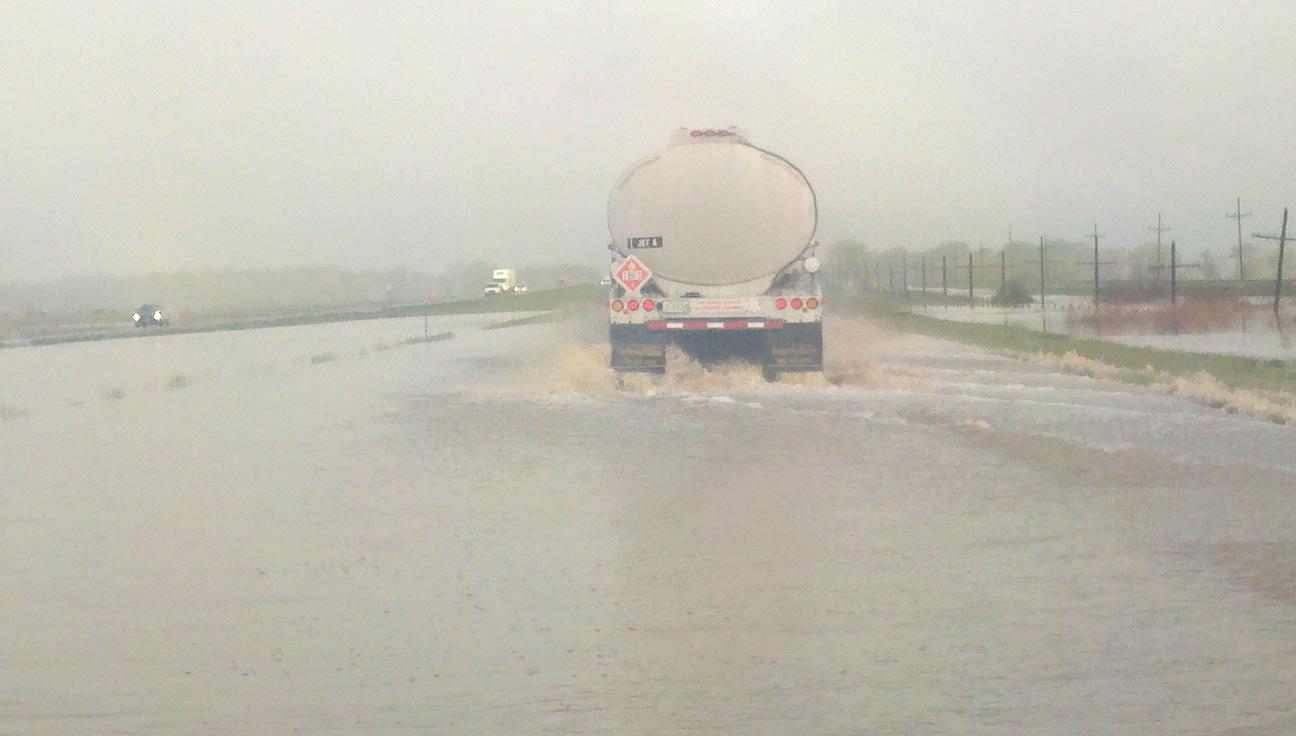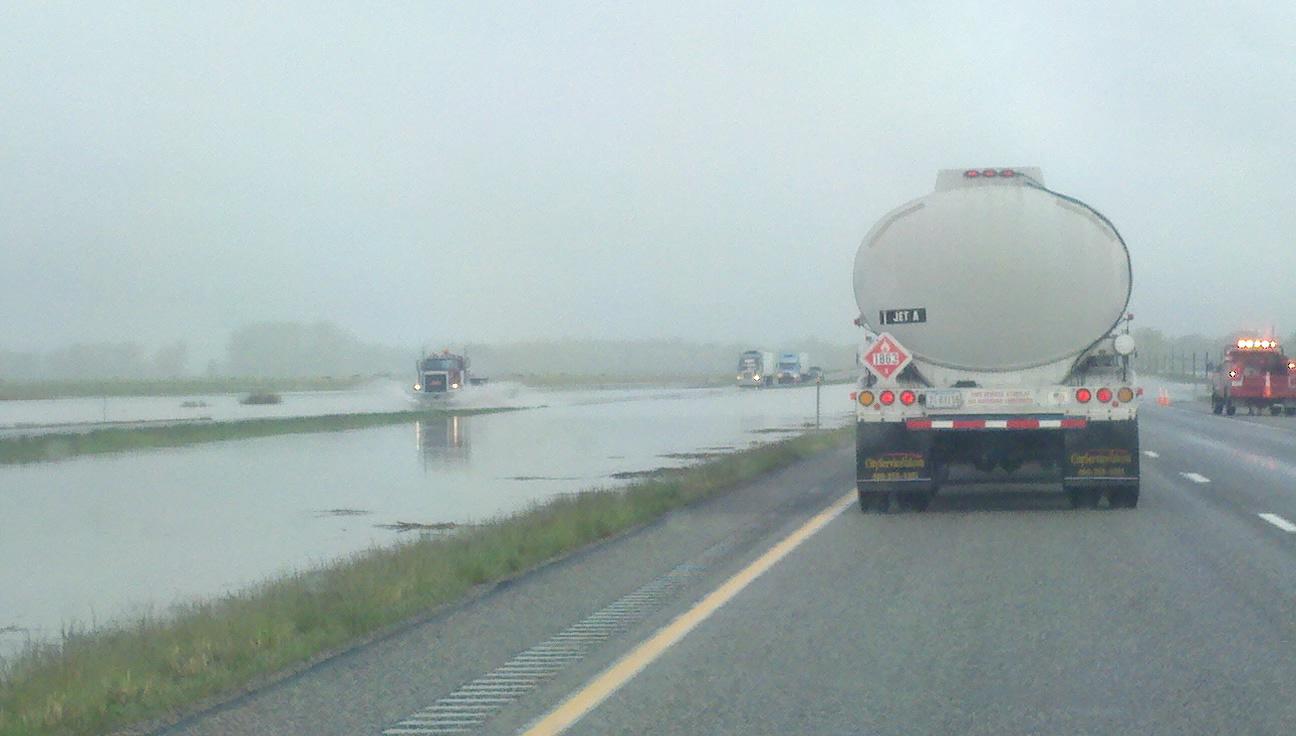 Billings has its own waterfall as KTVQ reports:
Lori Grannis, with the MT Red Cross, had this Wednesday morning:
As Yellowstone County's Department of Emergency Services activated the Emergency Operations Center late afternoon Tuesday, flooding and flash floods within the county drove additional people to the Montana Red Cross located at the MSU-Billings campus.

At 10 p.m. the shelter manager counted and verified 208 residents. Soon after, at least 10 more arrived, prompting Red Cross volunteers to acquire additional blankets from Walmart near the midnight hour.

A second new shelter opening is pending for later today to accommodate Lame Deer residents displaced from floods.
Picture of the week as the girls softball tournament got flooded out in Glasgow. So, the Glasgow girls posed for a team photograph on the field…in a boat. Click here to see the pic.
Rails also closed, as John Adams reports:
Gus Melonas, a spokesman for BNSF Railway, said late Tuesday that at least two of the company's lines were temporarily closed because of flooding.

He said the line the flooding occurred on connects Great Falls to Laurel and typically carries grain and general merchandise.

Melonas said the "secondary main-line route," averages 3 to 5 trains a day. Meanwhile, a BNSF coal route from Billings to Wyoming called the Sheridan Line also is out of service because of high water and washouts. That line averages more than 20 trains a day, Melonas said.
MSU-Billings shelter, largest in state history, as Jan Falstad reports:
The evacuees, from age 9 months to 92 years, are staying in dorm rooms on the fifth and eighth floors, he said.

The lobby was an informal gathering place with mothers rocking babies, young children running around and elders, some looking sad and confused.

In addition to television sets in the lobby and on the floors, university staff was showing movies for the kids in Petro Theatre, installed a phone line for local calls, opened a computer lab and was setting up exercises in Petro Fitness Center.
Gazette Video: