Gov. Brian Schweitzer had a Thursday deadline to make a decision on two critical pieces of legislation. SB 233 is the main MEPA reform bill that passed the legislative session (see preview below). HB 2, meanwhile, is the main budget bill.
For the first mentions of this breaking news regarding the Governor's decision, we turn to Twitter and the posts by various members of the Montana Capitol press corps: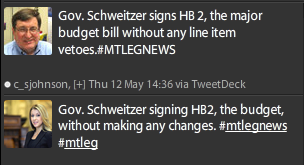 Looks like Emilie Ritter wins the "first tweet of the news" award, while Chuck Johnson gains second.
Still awaiting news on MEPA. But Ritter just had this Tweet around 2:50 PM:

That's it for me, for now as I have to run to Helena for a live show from the Governor's office tomorrow.
John Adams had this preview in The Great Falls Tribune regarding the MEPA (Montana Environmental Policy Act) reform bill:MEPA Reform Bill Decision Today
Environmentalists and conservation groups who have hailed Gov. Brian Schweitzer's use of the veto pen in recent weeks are concerned that the governor is preparing to let a bill that rewrites the state's bedrock environmental law become law.

Senate Bill 233, by Sen. Jim Keane, D-Butte, would limit what impacts agencies can consider when conducting an environmental review under the Montana Environmental Policy Act, the 40-year-old law that requires state agencies to review the impacts of any major state action such as issuing air- or water-quality permits.

The measure also bars courts from stopping or delaying a project if someone sues to challenge the adequacy of an agency's MEPA review.