Aaron Flint
posted on March 01, 2011 15:09
:: 1556 Views
Remember this picture? Well, if you listen to Senator Jon Tester's (D-MT) latest interview with The Los Angeles Times, don't expect Senator Tester to be arm in arm with President Obama anytime between now and election day 2012.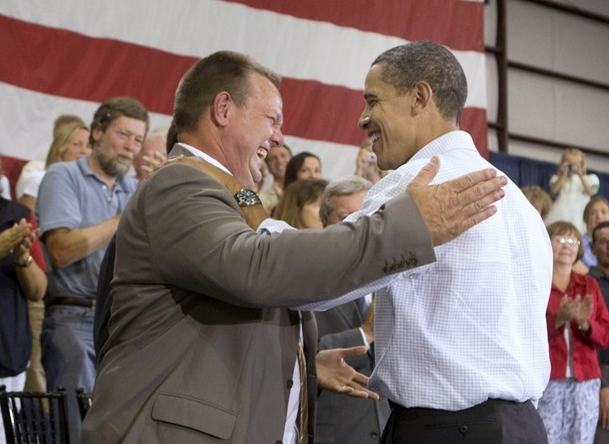 Here's what Sen. Tester told The LA Times, after the paper cited President Obama's falling approval rating across the West:
His Republican opponent, Rep. Denny Rehberg, is now more likely to utter Obama's name — and not in a good way — than the Democratic senator, which suggests how much the ground has shifted since the last presidential race. Asked whether he would stand alongside Obama if he campaigned in Montana, as he did in 2008, Tester suggested not.

"I'll stand with [Brian] Schweitzer. I'll stand with Max [Baucus]," Tester said of the state's Democratic governor and senior U.S. senator.

Announcing his candidacy, Rehberg called Tester a "yes man for Barack Obama," saying he sides with the administration on 97% of votes. He singled out Tester's support for the healthcare bill and 2009 economic stimulus, both of which Rehberg opposed.

Tester defends both. The healthcare legislation was a start toward repairing an out-of-control system, he told radio listeners, and contains "a lot of good stuff." Any problems, he said, can be fixed.
Meanwhile, from The Daily Inter Lake: It's Time for Real Sacrifice
Sen. Jon Tester's take is that Congress needs to be deliberative and careful in pursuing budget cuts in the short term, and seriously scrutinize spending in all corners of government, including defense and entitlements.

We agree, but we also note regretfully that we wish Congress had been just as deliberative and careful before passing the record spending, borrowing and debt in the first place.
All this as Politico's David Catanese moved the Montana Senate race up two rankings to #5 in the nation in "February's Senate Monthly 10" http://politi.co/dPK9TG
5. MONTANA (Up 2 Spots) – It's the only battleground Senate contest in the country that appears to be set in stone: Sen. Jon Tester against Rep. Denny Rehberg. And the initial tight polling shoots the race up the ladder, leapfrogging unsettled contests in Ohio and Massachusetts. The most recent poll puts the race at a three point margin in favor of Rehberg, but also shows that both boast approval ratings over the 50 percent mark.

Who Won February: Rehberg

Latest Poll: Rehberg 47%, Tester 44% (NSON Opinion Strategy, 2/16-2/17 400 likely voters)

Catanese discusses the Senate Monthly 10 in the below video: