Aaron Flint
posted on March 07, 2011 22:55
:: 3004 Views
Afghan Update #2
08MARCH2011
After finishing our cup of tea with Afghan National Army Colonel Hakim and Captain Peter Olsen of Great Falls, Mike Overstreet and I caught a ride back from FOB Lindsay over to Kandahar Airfield. That's where I was able to write my first blog post from Afghanistan this trip, and then catch at least a couple hours of sleep before waking up Monday morning.
We got up at about 3:30 early Monday morning, packed our gear, grabbed a cup of coffee, and then linked back up with Captain Peter Olsen. Then it was off to the RC-South Command Headquarters where we were able to link up via satellite with Amanda Venegas and the KTVQ crew with the CBS TV station in Billings. About 7 minutes before we were scheduled to go live on air for the 530 news, the battery for the camera went dead, and the backup was back in our room. So Mike Overstreet took off, grabbed a bicycle that was standing in front of the building and peddled his way back for the spare battery. Luckily Mike showed up just before 5:00 AM with the battery in hand, his seat wet, and his back covered in mud.
We were then live on-air via satellite back in Montana with Captain Peter Olsen. It was shortly after 5 AM Afghanistan time Monday morning, and just after 5:30 PM Montana time on Sunday. Once we wrapped up the live shot, Mike and I tossed our bags into a van and caught a ride over to the helicopter pad. Within a few hours, we found our way flying in an old Russian helicopter to Forward Operating Base Lagman, just outside of the Southeastern Afghan city of Qalat, in Zabul Province.
Upon hitting the ground at FOB Lagman, it wasn't long before we started running into Montanans. FOB Lagman is much smaller than Kandahar Airfield, which is exactly how the soldiers like it- more of a small town feeling. Plus, the FOB still has some of the comforts of home- a nice gym, a Green Beans Coffee House, an Internet Cafe', a medium sized PX (military store), and of course a good chow hall (cafeteria.)
FOB Lagman is home to the headquarters for the 2nd Stryker Cavalry Regiment, headquartered in Vilseck, Germany.
We caught up with Sgt. First Class Brian Sturdevant from West Yellowstone, Montana.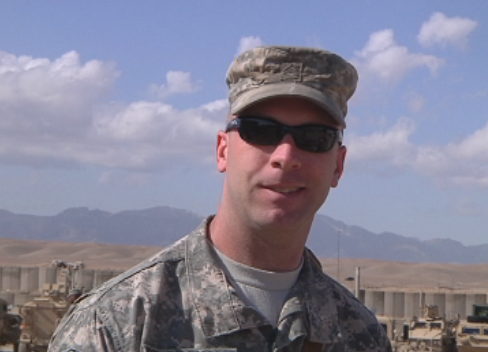 The 1990 Bozeman High School grad is now on his fourth deployment with the US Army. He's a geo-spatial engineer with the 2nd Strykers. Folks in West Yellowstone may know his Mom and Stepfather who own Jacklin's Fly Shop in town. Sturdevant says FOB Lagman reminds him of being around the Crazy Mountains in Big Timber. Elevation here at FOB Lagman: roughly 5200 feet.
While SFC Sturdevant was showing us around FOB Lagman, we ran into Retired Lt. Col. Keith Lembke, a Havre, Montana native who has spent the last 3 years in Afghanistan working as a civilian contractor in support of the war effort. Lembke now works in support of counter-IED efforts, researching and analyzing the enemy's use of roadside bombs.
There's more Montanans to catch up with during our trip to Zabul Province- one soldier is an engineer who helps keep the roads free from roadside bombs. Others patrol the nearby villages and countryside as they train Afghan National Army soldiers at another nearby FOB.
PIC BELOW: Mike Overstreet (right) does a walk and talk with Major Michael Basta (left), an Army Reservist from Glendive, Montana.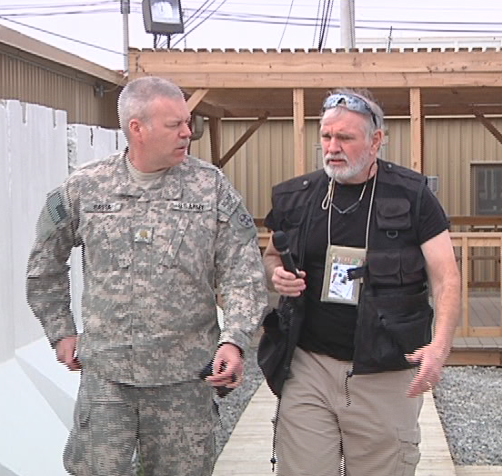 PIC BELOW: A view of some old Alexander the Great era ruins in Qalat, Afghanistan from FOB Langman.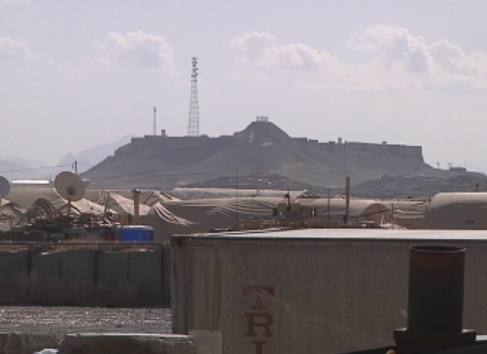 PIC BELOW: A picture of me (Aaron Flint on left) interviewing Maj. Michael Basta (on right) of Glendive.