Aaron Flint
posted on March 08, 2011 20:44
:: 1097 Views
When it comes to Afghanistan, you hear the question often asked: what's the endgame? What's our ticket out of there? The answer, it seems, is developing the Afghan National Army and Afghan National Police into an independent force capable of defending their own country and preventing Afghanistan from becoming another safe haven for terrorists.
That being said, Zabul Province, where we are currently located and linking up with Montanans, has seen dramatic improvement in recent years. In fact, Sgt. Jerry Wilson of the 2nd Stryker Cavalry Regiment, who has been showing Mike Overstreet and I around FOB Lagman, reported the most recent progress on the 2nd Stryker's webpage:
Sunday, Feb. 27 marked a historic moment not only for the 2nd Kandak, 2nd Brigade, 205th Corps of the Afghan National Army but also the Afghan National Security Forces. On this day, the 2nd Kandak celebrated a goal never reached by any other ANA unit in Afghanistan to date. It is the first Kandak to earn and become a completely independent force, capable of operating without the aid of Coalition partners.

There are other Kandaks or battalions in 2nd Brigade that are almost ready for this honor, but they need to be assessed and evaluated a little more. This is the first step of many on the eve of the transition plan announcement around mid-March.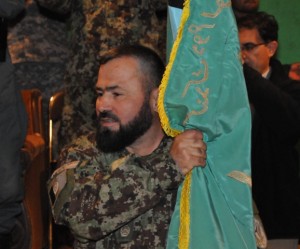 (Photo courtesy Sgt Jerry Wilson)
Col. James Blackburn, the 75th Colonel of the 2nd Stryker Cavalry Regiment, whose Soldiers have been working alongside the 2nd Kandak as part of Combined Team Zabul, was equally proud of the unit's extraordinary achievement.

"While we use numbers to describe the success of 2nd Brigade and 2nd Kandak, none of them add up to the effect of this organization," he continued. "The number of IEDs defeated, of caches exploited, the number of enemies detained does nothing to describe what this Brigade means to the people of Zabul."