Maybe it's just me, or maybe the media just isn't covering this angle the way they did in the past- but where are all the top elected Democrats in Montana?
I know the Governor hosted a fundraiser at the Governor's mansion for one embattled state senate candidate, but it seems odd to me that the Democrats aren't taking more advantage of their ace when it comes to some of these battleground legislative races in the state. It seemed just a few years ago that Gov. Brian Schweitzer was out going door to door with State Senate candidate Margie MacDonald. Even the latest polls show the Governor polling in the 60 percent approval range, and this week he is being touted on CNBC. Like I say, maybe he's out there aggressively campaigning for these candidates and it just isn't being reported, but it certainly makes you wonder.
And if the popular Governor doesn't appear, at least, to be out aggressively campaigning for these legislative races here in Montana- it's no wonder then that we also don't seem to be hearing much about Senator Jon Tester (D-MT) or Sen. Max Baucus (D-MT). After both senators voted for ObamaCare and a number of other Obama Administration agenda items, it would be understandable why local candidates may not be as welcoming to a campaign appearance. An earlier report in The Billings Gazette suggested low opinions of Obama could hurt Montana Democrats.
It also explains why Sen. Tester has apparently been pretty active out on the campaign trail for fellow Democrats across the country, and not aggressively campaigning for local Democrats here in Montana. Tester has already been campaigning for Senate Majority Leader Harry Reid in Nevada, and raising money for California's Barbara Boxer. The photo below shows Sen. Tester Tuesday in Missouri campaigning for US Senate candidate Robin Carnahan, according to her campaign's website.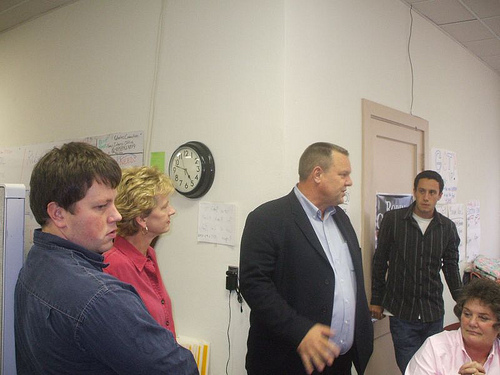 UPDATED INFO: It looks like help is on the way for local legislative Democrats. I e-mailed Martin Kidston with the Montana Democratic Party and he said both Baucus and Tester are doing the Get Out The Vote rallies in Kalispell, Missoula, Great Falls, Helena, Bozeman and Billings starting Saturday and lasting through Monday.
Plus, I figured if anyone would know how much help the big dogs are providing for GOTV efforts, it would be Left in the West's Matt Singer. Here's what he had to say:
The short answer is that Schweitzer is definitely out stumping. Tester has also been out quite a bit. Baucus is less visible, but he's raising a lot of money for the Dems, which is a more traditional role for him.
Republicans, meanwhile, appear to be actively playing their ace in the days ahead of Tuesday's election.
According to a press release, The Montana Republican Legislative Campaign Committee, Congressman Denny Rehberg, and the Montana Republican Party are launching the GOP Victory Express Bus Tour Wednesday. Congressman Denny Rehberg, MRLCC Chairman State Senator Jeff Essmann, and Republican Party Chairman Will Deschamps will lead the bus tour as they travel across the state, rounding up support for Republican candidates in competitive legislative districts.
Schedule of Events:
Wednesday, October 27th
– Billings – Rally at Veterans Park @ 1:00 PM
Thursday, October 28th
– Glendive – Rally at the Epic Center @ 9:00AM
– Plentywood – Rally at Town Square @ 2:00 PM
Friday, October 29th
– Havre – Rally at Town Square @ 9:00AM
– Great Falls – Rally at Park on Corner of 8th St. NE and Sacajawea @ 2:15PM
Saturday, October 30th
– Whitefish – Rally at Baker Park @ 9:00 AM
– Kalispell – Rally at Lion's Park @ 10:00 AM
– Ronan – Rally at City Park @ 1:15 PM
– Lolo – Rally at TBD @ 4:00 PM
– Hamilton – Rally at Theatre @ 6:15
Sunday, October 31st
– East Helena – Rally at Main Street Park @ 12:45 PM
– Bozeman – Rally at Lindley Park @ 4:30 PM
PRIOR POST
I have to apologize for not updating The Flint Report here in the last couple days, I was out in Southeastern Montana running with my musket like Last of the Mohicans trying to shoot an antelope. Nonetheless, while I was out hunting I was able to listen in to "Voices of Montana" while Tom LaRoque was guest hosting, and this new radio ad perked my ears up.
Yes, as I type, it is now one week until Election Day in Montana, but this wasn't a typical radio ad that you would be hearing one week out from the 2010 election. As you hear frequently from Tea Party activists, the real work starts on November 3rd. But for those targeting freshman Senator Jon Tester (D-MT), who cast the deciding vote for Obamacare, the work and the campaign has already begun.
Listen to the radio by clicking below:
Click to Listen
Of course, it has been a busy fall campaign season for Senator Tester-making the rounds campaigning for Sen. Harry Reid (D-NV), Barbara Boxer (D-CA), and candidate Jack Conway (D-KY).
UPDATE
List of MT Democratic Party GOTV events
Missoula
The Badlander
208 Ryman
Saturday, October 30th
12:00-1:00 pm
Click Here for More Information
Kalispell
Old Red's Bar
30 2nd St. East
Saturday, October 30th
3:30-5:00 pm
Great Falls
Wrangler Art Gallery
316 Central Ave.
Sunday, October 31st
12:00-1:30 pm
Helena
Carroll College, Campus Center
Sunday, October 31st
3:00-4:00 pm
Bozeman
MSU-Strand Union Building, Room 168
Monday, November 1st
12:00-1:00 pm
Billings
MSU-Billings Student Union Building, Atrium
Monday, November 1st
4:30-6:00 pm