Aaron Flint
posted on July 15, 2010 13:38
:: 1357 Views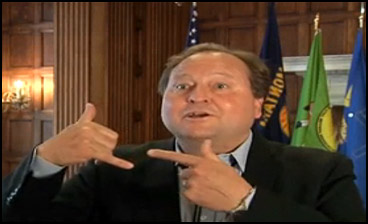 Reacting to more criticism over the state's proposed purchase of the Spotted Dog Ranch near Avon, Governor Brian Schweitzer (D-MT) is telling critics, if you've got a better idea, "Call me."
The Governor flashed the cell phone hand signal as he made the statement to KXLH-TV reporter Marnee Banks following a legislative committee meeting Monday.
Former FWP Director Jim Flynn raised pointed questions about the proposed purchase:
"Here we are with a substantial proposal to spend money and no plan in place. This lack of a plan may be in conflict with the federal Superfund law but more importantly it prevents good and responsible decision making."

PREVIOUS POST
The proposed purchase of the Spotted Dog Ranch near Avon is drawing increased scrutiny. After initial reports from The Montana Watchdog's Phil Drake and opinion columnist Dave Skinner, the Helena Independent Record is now weighing in with this report featuring concerns from the Clark Fork Coalition among others. In addition, Eve Byron sheds light on how the idea for the purchase evolved- from Montana Gov. Brian Schweitzer. Schweitzer (D-MT) told Byron he was looking for some property for sale a few months ago and came across a listing for the Spotted Dog, so he made a phone call:
"I asked if the place was still listed and they said it wasn't," Schweitzer said. "They said they thought they were selling it to another party. I said 'That's the end of that,' then a few weeks later I got a call from their attorney, who said it wasn't sold yet. He said there was still an active interest by three buyers, but at this time the people were reluctant to move on it."
Meanwhile, the Clark Fork Coalition says the land purchase has raised concerns. Cary Nyman of Anaconda added this:
"I believe that it's irresponsible to spend any of that money, especially when we're getting into the corpus, on anything but restoration, but most especially to be spending it before there's a plan adopted that dictates how we will do that. This is a finite pot, and once it's gone, it's gone."
PREVIOUS POSTINGS
Aside from the sex ed for kindergartners meeting in Helena this week, another listening session drew a raucous crowd. This one in Deer Lodge discussing the proposed sale of the Spotted Dog Ranch near Avon. Montana Fish, Wildlife, and Parks is reportedly looking to buy the property for more than $15 million. The Montana Policy Institute's Phil Drake attended the meeting. Click here to read his report regarding concerns about the Governor's role.
And, as Dave Skinner noted in his weekly column on the Flathead Beacon, the money to purchase the ranch would come from Clark Fork River environmental cleanup dollars:
The money for the buy ($16.6 million) is sourced from Montana's Natural Resource Damage Program (NRDP), funded by damages won in court from Atlantic Richfield (which bought Anaconda Copper) totaling about $400 million, plus another $150 million from ASARCO.